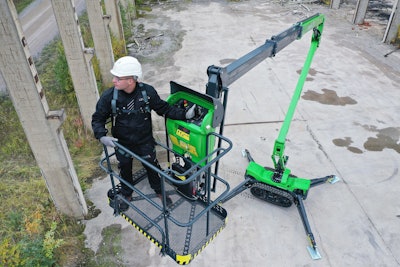 Avant Tecno
After introducing a 62-foot-tall spider lift in the U.S. a few years ago, Avant Tecno has followed up with the new Leguan 225 as dealers and customers called for more reach, height and capacity.
The new spider lift is the largest from Finland-based Avant's Leguan Lifts subsidiary. It can reach a working height of 74 feet, a side reach of 37 feet and has 550 pounds of capacity in its platform – enough for two workers and tools. It is designed for construction, maintenance, tree care and other uses for working at height.
(To watch the Leguan 225 in action, check out the video at the end of this story.)
It can traverse rough terrain with its tracks, including slopes as steep as 45 degrees, and can stabilize on uneven ground for raising the platform. It's also light, at 6,500 pounds, and can be transported without the need for a CDL.
It runs on a 21-horsepower Kubota diesel engine, and a 230-volt electric motor for the boom and platform rotation. The four outriggers level the lift automatically with the push of a button.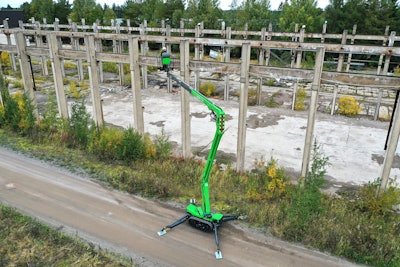 The lift gets faster boom hydraulics than earlier models, and all of the hydraulic hoses and components are protected within the boom, the company says. The chassis has been reinforced with steel.
Other advancements include more powerful turning ability even at high speeds and a smoother ride when operating the lift from the platform, Avant says. It also added a back-to-home function in which the boom will automatically return to folded transport position with the push of a button and a back-to-work function in which the platform will automatically return to the work position it was in when the operator enacted the return-to-home function.
The service display on the lower control panel presents such information as the lift's status and aids in troubleshooting and obtaining remote technical support. Smart features on the joystick controls are designed to prevent malfunctions.
The 225's outriggers and driving can also be operated by remote control. A special trailer is available for transport.
Check out the Leguan 225 in action below:
Quick specs
Max lift capacity: 550 lbs. (2 workers)
Max work height: 74'
Max platform height: 67'3"
Max outreach: 29'10" at 550 lbs.; 36'9" at 265 lbs.
Engine: 21-hp Kubota diesel
Max drive speed: 1.9 mph
Weight: 6,500 lbs.
Transport dimensions: 19'9" L x 4'4" W x 7'3" H
Platform dimensions: 4'4" x 2'6"