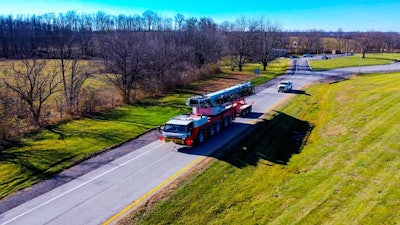 Link-Belt Cranes
Link-Belt Cranes is debuting an entirely new crane platform at ConExpo-Con/Agg 2023 with the launch of its 300-ton 300 AT all-terrain crane.
"We spoke extensively with our customer base and feel like we have delivered. They want a crane that travels down the road efficiently, goes together on a jobsite quickly, has a strong chart and is reliable," said Andrew Soper, product manager telescopic truck and all-terrain cranes.
Designed to be easily transportable, the five-axle 300 AT can run on alternative diesel hydrotreated vegetable oil (HVO) fuel and is EPA On-Highway and CARB On-Road compliant. "This crane represents Link-Belt's long-term AT investment, which goes back to 2009 with construction of our own formed boom bay and subsequent ATC-3275 introduction," adds Soper.
Lifting Highlights
Featuring a seven-section, 46- to 238-foot pin and latch greaseless formed boom, the 300 AT has a 369-foot max boom tip height. An optional two-piece 42- to 71-foot on-board hydraulically offset fly and two 25-foot lattice extensions are also available.
Link-Belt says the crane's modular counterweight configuration increases versatility. The maximum counterweight is 162,000 pounds with four overflow truckloads. For improved mobility and efficiency for a variety of jobsite scenarios, the 300 AT can be set up with two overflow loads and 74,000 pounds of counterweight. Operators can transport the 300 AT with its upper 8,000-pound counterweight tray and still stay below 160,000 pounds of gross vehicle weight, or 23,000 pounds per axle.
Greaseless sheaves and Teflon wear pads reduce maintenance and service costs. Additional standard boom features include wireless wind speed indicator, single-hand operation rope guard, and three work lights on the boom base section.
The crane also comes equipped with SmartFly, a proprietary system that ensures proper fly erection and stowage sequence while minimizing work at height.
Under the Hood
The 300 AT is powered by a 554-horsepower Cummins X15 diesel engine with ZF Traxon automated manual transmission. The transmission features improved shifting performance and offers integrated intarder braking with paddle shift controls for easy stop-and-go at highway speeds, Link-Belt says.
The new power transmission system efficiently powers upper hydraulic functions. It offers a 24-volt electrical system with modern CANBUS communications.
In the Cab
Like the 175|AT, the 300 AT has a two-person carrier cab with an air ride seat, a 10-inch touch display, automatic climate control, blue tooth radio, cellphone charging and LED lighting.
The windows are equipped with large wipers in the front and top, and multiple vents for quick defrost. Another new feature to Link-Belt's all-terrain lineup is the improved flexibility of V-CALC. The variable outrigger positioning system allows for setup in tight jobsite conditions where outriggers require being unevenly extended (0%, 40%, 70%, 100% extension). All capacities are printed in crane rating manual and automatic swing function kick-out works to maintain forward and backward stability.
Other features include:
Wireless rigging remote (carrier function, upper function, fly erection)
Tire pressure and temperature monitoring system
SmartStack counterweight detection system
Site Vision camera package
Tie-offs at all dedicated anchor points for multiple work positions
Flat carrier deck with four access points