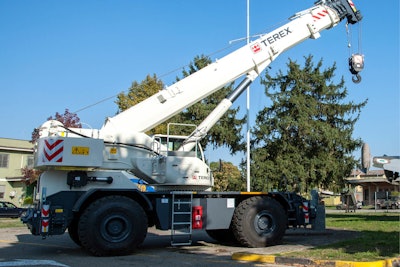 Terex
Terex is splitting its crane business into two separate entities: Terex Tower Cranes and Terex Rough Terrain Cranes.
While both entities will remain within the 'Lifiting' category of parent company Terex Materials Processing's portfolio, the reorganization involves investment in each brand, including independent leaders and increased manufacturing capacity.
"We see a lot of potential for Terex Tower Cranes and Terex Rough Terrain Cranes," says Kieran Hegarty, president, Terex Materials Processing. "Since they are two completely different sets of products, manufactured in two independent facilities, it makes sense to separate them to provide more focus and clarity. We have new brand identities for Terex Tower Cranes and Terex Rough Terrain Cranes and each business now has its own individual general manager who will execute independent growth strategies—broadening their specific product portfolio and expanding distribution partners for those products globally while enhancing support for their distribution network."
Terex Tower Cranes
Marco Gentilini will serve as vice president and general manager of Terex Tower Cranes, which includes flat top, luffing jib, hammerhead and self-erecting tower cranes. Terex's tower cranes are manufactured at its Fontanafredda facility in Northeastern Italy.
As the company looks to expand its self-erecting crane business, Gentilini says, "We have appointed Nicola Castenetto to lead the product development, strategic planning, sales, and post-sales activities of Self-Erecting cranes. Nicola has been with us for 15 years and is ideally suited to strengthening the relationship with our existing partners while opening new markets, countries where in the past, Self-Erecting cranes have not been so present. Commercial expansion, in terms of new markets, channel development and expanding our distribution network is a key focus. Along with Nicola's appointment we also have a dedicated engineering team to lead product development, and a brand-new facility that will concentrate on the manufacture of self-erecting cranes. It's an exciting time for this arm of our business and these investments show that we believe in the product and are committed to growing it."
Terex Rough Terrain Cranes
Giancarlo Montanari, general manager, will head up Terex Rough Terrain Cranes, composed of its RT and TRT ranges manufactured at the company's Crespellano facility in Northern Italy.
"Being physically based at Crespellano and having full responsibility for both the internal side of the Terex Rough Terrain Cranes business as well as the outside, customer-facing side ensures that there is focus, continuity of oversight, coordination and support across all departments," he says.
Commenting on key priorities, Montanari added, "During my time so far with Terex, I have been able to meet distributors and customers; and the key thing they look for is performance. The crane must be easy to use and maintain, to maximize their productivity. And certainly, our TRT range with the new TEOS operating system and T-Link telematics ticks all those boxes. We know we have an excellent product, so our priority is on expanding our market presence into countries where rough terrain cranes are not so popular yet. Development of our distribution network is also a critical task, and finally, improving manufacturing capacity at Crespellano to meet growing demand."
Hegarty concludes, "We are confident that this new structure will focus each business on strengthening their individual and unique brands. Both leaders have a wealth of experience, and our investments will support them in driving the long-term growth and success of Terex Tower Cranes and Terex Rough Terrain Cranes.