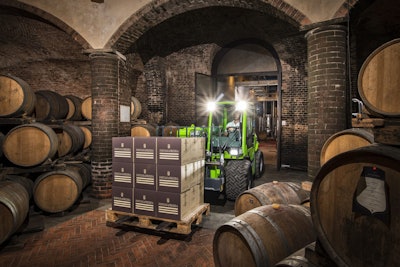 Merlo has unveiled its first fully electric telehandler, the eWorker.
The new zero-emissions, zero-fuel machine has a maximum load capacity of 5,511 pounds and 15 feet 7 inches of lift height. Load capacity at maximum lift is 3,307 pounds, and the no-flex boom has a maximum reach of 8 feet 5 inches handling a maximum load of 1,984 pounds.
Equipped with a 48V lead-acid battery, the eWorker can put in 8 hours of work before recharging is required. The battery is positioned in the middle of the telehandler, providing a lower center of gravity and better stability.
The eWorker's 100% electric transmission features a battery that directly powers the electric motors, to ensure constant drive torque throughout acceleration. Four-wheel-drive models have two electric motors at the front – one for each wheel – and a third electric motor at the rear side, positioned vertically and flanged on the rear axle. An anti-tilt system with anti-tilt sensors is integrated into the rear axle to ensure machine stability.
The telescopic boom has its own electric motor that is connected to a load-sensing hydraulic pump. An electronic control unit manages the rpms of the electric motor and the oil flow of the hydraulic distributor. The boom is built from high-strength steel with its hydraulic hoses and electrical wires positioned inside to protect against impact or snagging.
The braking system features two wet disc brakes installed inside the front wheel reducer, and an electric- hydraulic negative parking brake, that can be manually or automatically operated. The mechanism engages when the machine stops and disengages when the machine is started and the accelerator pedal is pressed.
Automotive-style ergonomics in the cab are designed for operator comfort. The cab is FOPS protected. Reverse shuttle is located on the steering column and joystick.