Sany
Sany has expanded its lineup of telehandlers with two new models, the compact STH634A and the midsize STH844A.
"We're pushing down into that residential construction market – smaller, more compact jobsites," said Craig Moslander, Sany senior director of engineering and product management, at ConExpo 2023.
Moslander noted that the new releases follow Sany's entry into the North American telehandler market in 2020 with its two larger models, the STH1056A with a lift capacity of 10,000 pounds and the STH1256A at 12,000 pounds. Both models have lift heights of 56 feet.
The new STH634A becomes Sany's smallest telehandler with a lift height of 34 feet 1 inch and max lift capacity of 6,000 pounds.
The STH844A can lift up to 8,000 pounds and has a max lift height of 44 feet.
Despite the differences in sizes, all four models have common operating controls and features. Sany maintains a theme of "fully loaded is the new standard."
"We're filling out the product family with a common theme amongst everything," Moslander said, "the same suite of fully loaded features standard on all the Sany equipment, common cabs across all the telehandlers. It's a true family of products."
Standard features for the telehandlers include a multifunction joystick, tilt steering wheel, backup camera and reverse sensors, electro-hydraulic control, four-wheel fender package, lift hook, auxiliary hydraulic connections on the boom, front and rear LED cab lights and beacon, LED work lights, cushioned solid tires and axle-mounted stabilizers.
They are also ROPS and FOPS certified and can be equipped with open or closed cabs.
The closed cabs have heating and air conditioning and front and top wipers. They also have independent upper and lower doors that can be opened all the way. The lower door can be locked open without interfering with the rear tire, the company says.
Both the STH634A and STH844A run on a 74-horsepower Deutz engine that uses a diesel particulate filter but no diesel exhaust fluid to meet Tier 4 Final emissions standards.
STH634A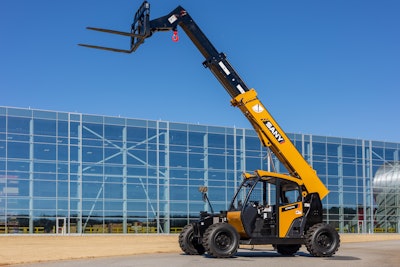 Sany touts the new compact telehandler, which weighs 15,370 pounds, as being small and light enough to be transported to jobs with a gooseneck trailer and maneuver in tight spaces.
Quick specs:
Max height: 34' 1"
Max reach: 23'
Max lift capacity: 6,000 lbs.
Lift capacity at max height: 4,000 lbs.
Lift capacity at max reach: 1,000 lbs.
Max speed: 17 mph
Width: 7' 11"
Length: 7' 1"
STH844A
At 25,647 pounds, Sany calls it a mid-size model that is versatile for large and small jobs. It features two-wheel, four-wheel and crab steering.
Quick specs:
Max height: 44'
Max reach: 30'
Max lift capacity: 8,000 lbs.
Lift capacity at max height: 6,000 lbs.
Lift capacity at max reach: 1,500 lbs.
Max speed: 14 mph
Width: 8' 1"
Length: 20' 2"