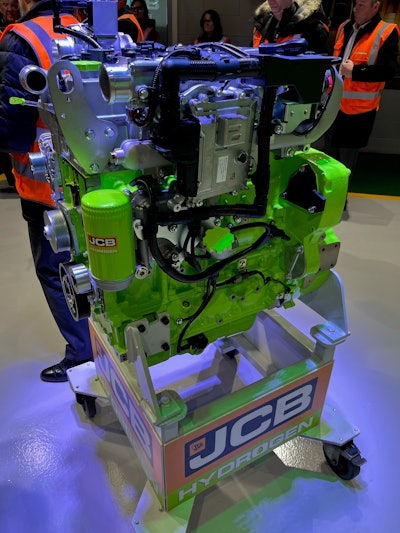 Mark Moore
JCB has pulled the wraps off the company's hydrogen combustion technology with the unveiling of its brand new hydrogen combustion engine.
The formal introduction came recently at the company's world headquarters in England, with a select group of North American journalists in attendance.
Calling the technology a game-changer that will lead the company's zero-carbon emissions solutions for agricultural and construction equipment, the totally redesigned engine replaces diesel fuel with hydrogen gas.
"This is brand new combustion technology," says Ryan Ballard, engineering director, powertrain, for JCB. "We kept the DNA of the engine; the only difference is the fuel, which is clean-burning hydrogen gas."
JCB Chairman Lord Bamford is leading the project to develop JCB's hydrogen technology. "The JCB engineering team has made enormous strides in a short space of time to develop a hydrogen internal combustion engine, and it already powers a JCB prototype backhoe loader and a Loadall telescopic handler. As the first construction equipment company to develop a fully working combustion engine fueled by hydrogen."
Leading the way in environmental, social and governance (ESG) for the construction equipment sector, JCB has been responsible for a series of industry innovations on its "Road to Zero."
JCB developed the world's first battery-electric mini excavator and has been at the forefront of electric technology development to meet customers' demands for zero-carbon products with its E-TECH range. Today JCB has the largest electric lineup available in the construction industry.
JCB will be displaying its new technology at the International Fluid Power Exposition (IFPE), co-located with ConExpo-Con/Agg.