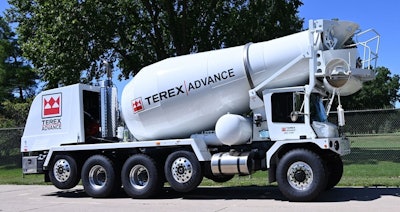 Terex
Terex is set to offer Cummins' X15H hydrogen internal combustion engine as an option in its Terex Advance Commander Series of front-discharge concrete mixer trucks.
The companies announced the signing of a letter of intent on September 11, making Terex the first U.S.-based on-highway equipment manufacturer to secure the zero-carbon emissions engine.
"As the global need to reduce emissions becomes stronger, we are actively pursuing practical, cost-effective strategies to help our ready-mix customers decarbonize. Cummins' X15H is a feasible zero-carbon option for our renowned front-discharge mixer trucks, and we are eagerly anticipating the future deployment of this technology," said David Grabner, general manager at Terex Advance.
The deal extends the existing partnership between the companies and will give customers the option to equip their mixer trucks with the X15H when production begins later this decade. Cummins' diesel engines currently power the mixer trucks.
"Hydrogen internal combustion engines provide a viable zero-carbon fuel option for heavy-duty, high-performance applications like concrete mixer trucks, which are often subject to arduous duty-cycles and tough terrain. It is exciting to see OEMs like Terex Advance leading the way in zero-carbon technologies, particularly in complex sectors like vocational trucking," said Jim Nebergall, general manager, Cummins Hydrogen Engine Business.
As part of Cummins' fuel-agnostic platform that debuted in early 2022, the X15H is based on internal combustion engine technology. The company says the integration into the truck chassis is straightforward and doesn't require a significant overhaul of vehicle designs or business operations. Because of the commonalities between the X15H and Cummins' diesel engines, customers will be able to acquire parts and perform routine maintenance easily, Cummins says.
"We believe that hydrogen internal combustion engines will play an essential part in decarbonizing both on- and off-highway applications. With diesel-like power and torque the X15H gives our customers a power option that delivers, no matter how hard their trucks work, or how tough the operating environment is," concluded Nebergall.
Hydrogen internal combustion engines meet the EPA's proposed greenhouse gas (GHG) Phase 3 standard. Cummins says commitments have also been signed by truck fleet customers, a global truck manufacturer, and a tractor manufacturer, signaling a growing interest in hydrogen technology.