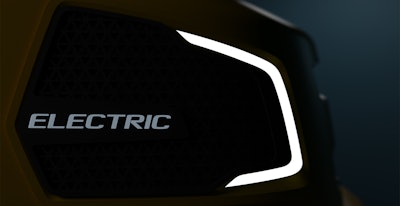 With the race to a viable, battery-powered, electric powertrain for construction equipment fully underway, Volvo Construction Equipment has thrown its hat into the ring.
By mid-2020, the company will launch as many as 10 electric machines with plans to no longer offer diesel-powered versions of those models.
The new machines will include electrified versions of the company's smallest compact excavators (EC15 to EC27) and its smallest compact wheel loaders (L20 to L28).
Though Caterpillar and Hyundai/Cummins have made announcements regarding the development of electric construction equipment, while JCB's first electric excavator will go on sale this year, what sets this Volvo announcement apart is that these electric excavators and loaders will replace the company's diesel models, full-stop, noting diesel development on these machine will cease.
In Volvo's words, the move makes it "the first construction equipment manufacturer to commit to an electric future for its compact machine range."
The company notes that its confidence in eliminating diesel engines from the bottom of its compact excavator and wheel loader ranges is based on "favorable reaction" from customers to concept machines it has unveiled in recent years.
Volvo notes that it currently has no plans for a similar move to electric among its larger excavators and loaders as diesel remains "the most appropriate power source" for these larger machines.
"The technology we have been developing is now sufficiently robust and this, together with changes in customer behavior and a heightened regulatory environment, means that now is the right time to commit to electromobility in our compact equipment ranges in the future," says Volvo CE president Melker Jernberg.
The first of Volvo's electric machines will be unveiled at the Bauma show in April. The machines will be launched through a "staged market-by-market introduction and ramp up in 2020," Volvo says.