With so many electrification product announcements at Bauma, Cat's release on its "strategic approach to electrification" during the show has a "wait and see" feel to it.
In the statement, Cat says "we are ready" when it comes to electrification.
Although not mentioned specifically in the statement, Cat's recent investment in electric car maker Fisker points to Cat's definite interest in exploring battery technology. (In announcing the investment, Fisker said Cat's investment is intended to spur the development of "solid-state battery technology with applications in construction, energy, storage, transportation and mining.")
Definition of electrification
But what exactly is "electrification?"
At Cat, it's defined as "making a machine, product or system operate using electricity when it did not before," says the statement.
Cat points to two already-in-production machines in its Bauma display that fall under the Cat electrification banner: the D6 XE dozer, introduced late last year that uses a high drive electric drive and the 988K XE wheel loader, introduced in 2017, that uses a generator, invertor and motor instead of a torque converter and transmission.
Cat is also showing a 300.9D VPS dual-power compact excavator that can switch between a diesel engine or a cable-powered electric motor, and a concept 906 compact wheel loader, which uses a fully electric drive train powered by a lithium-ion battery.
Dealer efforts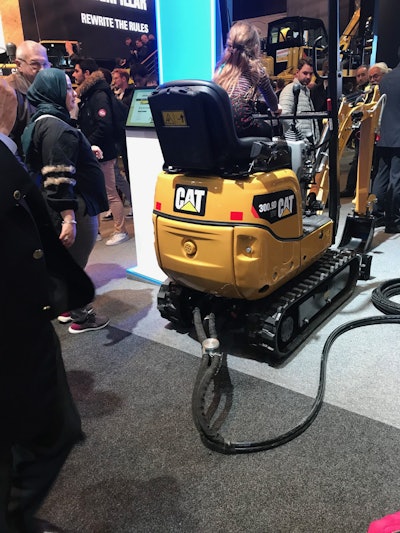 The statement also points to the efforts of Cat dealers, saying "they are the front lines of the electrification movement, and adapting existing products to meet local requirements." Cat's German dealer Zeppelin has adapted a Cat 302.7D CR compact excavator and a tethered electrified material handler for primarily indoor use. Pon Equipment, based in the Netherlands, is also building eight fully electric excavators based on the 323F model for the Norwegian market.
At the show, the displays for the Cat 300.9 and Cat 906 models included an electrification survey that asked attendees to detail their interest in electrified construction machines.
To help customers adapt to electrification more quickly – and at a lower cost and risk – Cat says it will apply "tried-and-true concepts across industries, applications and products large and small. At the same time, we'll also continue to seek the breakthrough innovations Caterpillar is known for, putting both bright minds and research and development dollars to work to make sure our customers have the tools to succeed in a partially or fully electric future."