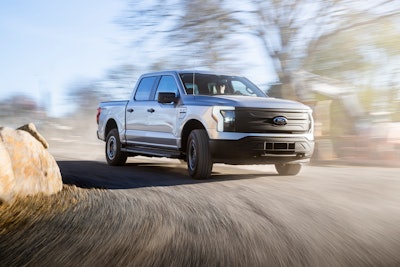 Ford Motor Co.
Production of Ford Motor Co. F-150 Lightning electric pickup has been suspended after a battery fire occurred February 4.
The fire, originally reported by the Detroit Free Press, occurred in a holding lot at Ford's Rouge Electric Vehicle Center in Dearborn, Michigan. It happened during a pre-delivery quality check. No injuries were reported.
According to Ford spokesperson Emma Bergg, the damage was limited to the truck with the battery issue and two other nearby vehicles.
In her preliminary statement, she confirmed the halt of production and delivery of the Lightnings.
"As part of our pre-delivery quality inspections, a vehicle displayed a potential battery issue, and we are holding vehicles while we investigate," Bergg stated. "We are not aware of any incidences of this issue in the field."
Subsequently, Ford stated that it had identified the root cause of the battery problem and the number of vehicles likely impacted.
"We monitor vehicle data to help ensure our vehicles are performing as expected in the field," Bergg said.
All completed trucks will be on hold for delivery until engineering and production updates are completed.
"By the end of next week, we expect to conclude our investigation and apply what we learn to the truck's battery production process," Bergg said, adding that the adjustments to the production process "could take a few weeks."
[Related: Range recalculations in Ford 150 Lightning prove troubling]
Fires relating to lithium-ion batteries used in many electric vehicles have been an issue. A Cub Cadet mower caught fire during Equip Expo in October 2022 shortly after the press conference unveiling the machine.
The challenge for firefighters relating to battery fires is that they can burn very hot, and it can take several thousand gallons of water to extinguish.
According to the Associated Press, General Motors, Hyundai, BMW and others have issued recalls of the batteries.
Batteries for F-150 Lightnings are produced by a South Korea-based supplier, SK Innovation, which has a factory in Georgia.
Ford announced last year that it will be transitioning to lithium iron phosphate batteries. Though not as energy-dense as conventional lithium-ion phosphate, they pose a much lower risk for flammability.
There's no word yet on whether a recall will be issued for Ford EVs that may potentially be impacted by the battery issue. However, the company has stated that it is unaware of any incidents relating to the battery fire in trucks that have already been delivered to customers. In addition, dealers are allowed to continue selling the vehicles they already have in stock.
According to CNBC, a "customer service action" notice went out in late January before the fire, indicating a need for parts to be replaced to "prevent performance degradation." Ford confirmed that the notice related to a battery complication that can prevent the pickup truck from shifting into drive or cause it to gradually lose power while driving. The company does not believe the issue is related to the fire.
The company would only confirm that approximately 100 vehicles were impacted by the battery complication. It is unknown how many more may have defective batteries because the issues are detected via vehicle data monitoring.
A spokesperson told CNBC that drivers would receive an alert through the display system; and the vehicle would begin to reduce power to allow the customer to drive to a safe location.
Impacted customers are to go to a dealer and get the suspect module replaced free of charge.