Amid a flurry of electric construction equipment news to start 2021, Volvo has introduced two battery-electric excavator prototypes that are different in more ways than one. We dig into those excavators, their differences, and into why Volvo could be the equipment OEM to beat in the electrification arms race.
Other coverage mentioned in this video:
Bobcat's Electric Excavator Retrofit A First Step Toward An All-Electric Future
Case CE Unveils First Electric Backhoe 580 EV at ConExpo 2020
No Counterweight Needed: What Will Set Komatsu's First Electric Excavator Apart?
---
Recently it has started to feel like the construction industry has really hit an inflection point of sorts when it comes to electrification. Up until about a year ago, there had been rumblings about electrification. A concept machine every so often, the release of a hybrid machine. Talk of testing wired machines. Etc.
But at ConExpo last year, things picked up a bit. We saw a lot of electric concept machines hit the show floor, including some from Bobcat, Takeuchi and Hyundai. But we also saw one that was ready for production, and as of today, is actually being delivered to customers in the Case 580 EV backhoe.

But if we want to talk about the OG when it comes to construction equipment electrification, that title really falls at the feet of Volvo which unveiled its first battery electric machines way back in 2019. At the Bauma show in Munich the company took the wraps off of the ECR25 electric compact excavator and the L25 electric compact wheel loader. And those aren't concept machines. You can go out and buy them today.

But Volvo's got bigger plans beyond the compact equipment segment. There has been a lot of electrification news lately from the likes of Deere, Case and Komatsu and now Volvo has has unveiled two midsize electric excavator prototypes: the EC230 and the wheeled EX03. We're going to get into the specifics of those machines, but in we're also going to dig into what makes Volvo such a unique player in electric construction machinery and why they're already ahead of much of the competition.
EX03

Now like I said at the top, Volvo has recently introduced two prototype electric excavators. Technically, one is a concept machine and the other is a prototype—and as we go we'll explore that difference, because it's important in understanding Volvo's process here—but we're going to start with the concept machine and that's the EX03.

This is a 14-ton wheeled excavator, placing it firmly in that midsize excavator segment, and Volvo says this machine is its first electric concept machine in that midsize range. Since this is a concept there aren't any performance numbers or further specs to delve into—the video we have of the machine is 3D generated because at least at this point it's possible Volvo hasn't even built a real version of this for real world use, though that is in the plans.

But that's why it's called a "concept". Volvo is putting this idea out into the world to elicit feedback and apart from it being an electric machine that reduces emissions to zero and creates a very low amount of noise, the other conversation starter that Volvo is hoping to get feedback on is that giant screen on the back.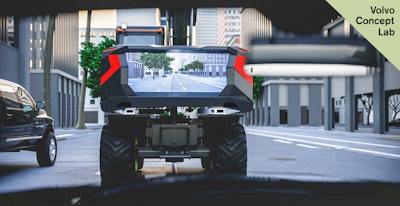 This screen is heavily designed toward situations when this excavator is roading or when it is working in urban or other high-traffic environments. And for a wheeled excavator that is often a big chunk of the time.

Volvo says this screen would essentially allow anyone behind the excavator to see through it thanks to a real-time video feed of what's in front of the machine.

But in the event that the machine is working in a fixed position, it would also be able to display safety or other text-based messages to other operators or to those moving alongside the work zone—basically integrating digital message boards into the machine itself. That would also come in handy if the machine starts to back up. The signage would display that the machine is backing up, giving everyone around one more way of knowing in addition to the backup alarm.

Another potential use would be showing a video feed of the operator and—as Volvo puts it—"allowing the operator to make eye contact with pedestrians and workers from inside the cab in order to minimize misunderstandings and increase safety."

The other pre-production excavator Volvo unveiled recently was the EC230. Now, we've got even less information on this machine, other than the fact that it's a 23-ton excavator and Volvo is estimating that it could cut your energy costs by 60-70 percent.
What We Know Is Important

So, there's a lot we don't know about these machines, but we do know a couple of important details: For one while they will replace the diesel engine with a battery pack, they will not only have the same or better performance as their diesel counterparts, these machines also retain their hydraulic systems.

As we noted in our coverage looking at Bobcat's work on electrification, some machines in the future might go fully electric, eliminating hydraulics altogether in favor of electric motors and actuators.

I recently spoke with Volvo Construction Equipment VP Ray Gallant and he told me that while some fully electric machines may hit the market eventually, within Volvo at least, that isn't the plan at any point in the near future and you might never see a wholesale switch away from hydraulics at all.

The second big thing we know about these two electric excavators is that their batteries are being developed and integrated in-house by Volvo. That's key because not a single other construction equipment OEM that has introduced electric machines—concept or otherwise—can say that.

The majority of the other equipment OEMs with electric concepts out there, have partnered with a company called Green Machine. We go into much greater detail on Green Machine in our coverage of Bobcat's electrification plans, but Bobcat, Case and Takeuchi have all partnered with Green Machine to effectively retrofit existing equipment into battery-powered concepts. As we discussed our coverage of Komatsu's electric excavator plans, they are partnering with a company called Proterra in the development of an electric midsize excavator. Hyundai has been partnering with Cummins on the development of its electric prototypes.
Volvo Benefiting From In-House Battery Development

But the batteries going into Volvo's machines were developed by Volvo's Trucks division. What's interesting there is that while using a battery designed for a truck in an excavator is certainly a suitable starting point, it's not going to fly once you're going to market.

There are a ton of design considerations that differ between batteries designed for trucks and execavators, chief among them being weight. While an excavator can use the weight and heft of a large battery pack as an advantage—as Komatsu has said it will do in foregoing a counterweight entirely on its electric midsize excavators—trucks need as light of a battery pack as possible as to not cut down on payload.

That's why Volvo recently announced a whole new business around its electrification efforts called Volvo Energy. This new division will not only make the interplay required between trucks and consumer vehicles and construction vehicles in the service of battery development more streamlined by coordinating that work, but it's also going to do a lot of the work of figuring out the supply chain, securing and managing the necessary partnerships and all of the other legwork specific to battery technology, while the respective divisions focus on how to tailor the resulting batteries to their specific needs.
I can't really overstate how everything I just laid out there is a huge advantage for Volvo Construction Equipment if we are indeed moving into what increasingly looks like an electric age for equipment.
Prototype Vs. Concept

So now that the similarities between these two machines is covered, let's move on to how they're different, because this difference illustrates how important public input is to Volvo's development strategy with regard to electric machines.

Earlier I mentioned my recent talk with Volvo Construction Equipment VP Ray Gallant and as he explained to me, the two machines represent two very different stages in the company's process.

As Volvo has noted with the EX03, there are not plans to bring the machine to market. So, when they call it a concept, they mean it. Could we possibly see an electric wheeled excavator with a giant screen be available some day? Maybe. But right now, it's far from a sure thing.

The EC230 on the other hand, is a prototype. This machine is currently undergoing customer testing in South Korea. In our conversation Ray told me that as a prototype it's passed the concept stage and is now well on its way to being released commercially—that is in South Korea at least.

Ray reminded me that though Volvo's current electric machines the ECR24 and the L25 are now available globally, they were prototyped in Europe, released first in Europe and only later were they launched in North America.

Of course, this implies greater demand and acceptance of electric machines in European and Asian countries, but as Ray noted another consideration is infrastructure. It doesn't make much sense from a business standpoint to release an electric machine into a market with little to no way of charging it.

Based on Ray's comments, that infrastructure is further along elsewhere in the world than it is here in North America, to the surprise of absolutely no one.

Another signifier of these machines' differences is their color schemes. The EX03 is green and the EC230 is yellow.

In fact all of Volvo's concept electric construction machines, going back to 2016, have been painted in this light green color scheme.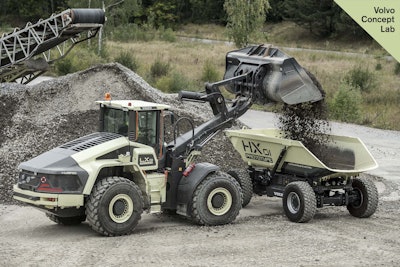 At that 2016 event hosted in Sweden, Volvo first showed off its LX1 hybrid wheel loader concept and the HX1 an electric and autonomous hauler.

Then, working with partner and construction giant Skanska, Volvo set to work building an electrified quarry operation with the LX01, a newer model of the autonomous electric hauler called the HX02, and the EX01—a 70-ton excavator that featured dual power through a diesel engine and a cable that provided electricity.

In 2018 Volvo announced that testing at this electrified quarry site reduced emissions by 95 percent, reduced energy costs by 70 percent and reduced operator costs by 40 percent.

Volvo is continuing these electrified quarry tests today and doing so in full view of the public.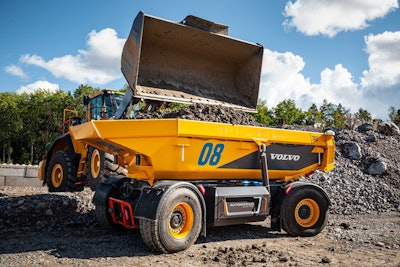 So with all of that we have a clearer view of Volvo's development process here. Concept, to prototype, to customer testing and then eventually to market. One machine in particularly, the recently announced TA15 has followed that very path.

The TA15 is part of Volvo's TARA autonomous transport project and grew out of the HX01 and HX02 concepts. Now its a full-fledged prototype in testing with Harsco Environmental, which is running four of these TA15s to transport slag to a landfill.