When it's time to tackle that demolition job, a heavy-duty attachment mounted to your excavator or other construction equipment can make the task much easier.
From grapples to breakers, here are 10 attachments designed for demolishing everything from building interiors to reinforced concrete.
---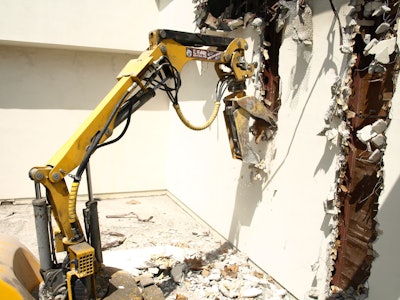 The Brokk G50 grapple is designed for soft indoor demolition with the company's small remote-control robots. The grapple is typically used with the Brokk 110 and 160 robots, which are 31 inches wide, have less than 100 foot-pounds of floor load and can fit through doorways. The G50 has a fixed and a movable jaw for grasping and pulling out things like drywall, ceiling sections, pipes and HVAC ducts. It can sort and pick up the debris after it falls. It features a 360-degree hydraulic circuit. It is also compatible with Brokk's 60II, 120D, 280 and some older models.
---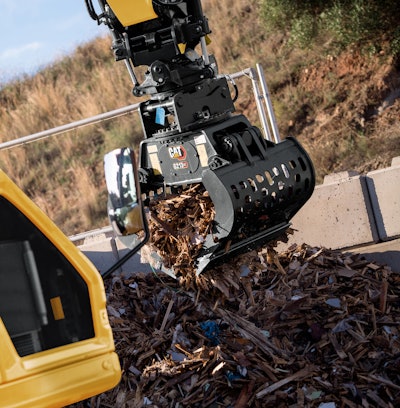 Cat offers a wide range of demolition and sorting grapples that can handle primary and secondary demolition, waste handling and recycling tasks. They are compatible with tracked and wheeled excavators and material handlers. They feature high-strength steel and 360-degree rotation. They also feature a single-cylinder design for less oil use, fast cycle times and high closing force. Bolt-on edges cut through material. The shell profile provides zero clearance from the cutting edge against vertical walls and edges.  
---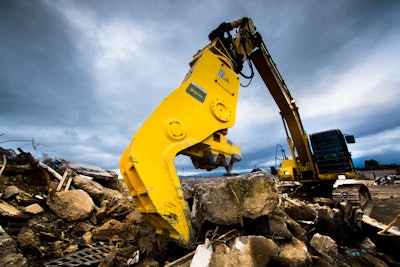 Epiroc's Bulk Pulverizers feature an angled shape and broad jaw for faster work and easier separation of rebar and concrete. They are designed for secondary demolition and reduction of reinforced concrete elements. They can break up material into grain sizes suitable for crushing or use as backfill. The pulverizers are compatible with excavators from 18 to 40 tons. The cutting blades can be reversed and replaced. A piston rod guard protects the hydraulic cylinder. An optional 360-degree hydraulic rotation device can be used for ceiling and wall demolition.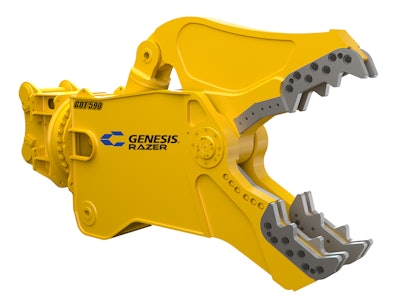 Genesis' GDT 590 Razer demolition tool can be used for such tasks as general and bridge demolition, concrete recycling and C&D processing. The GDT can also cut through structural steel, rebar, aluminum, wire and copper. It is compatible with excavators weighing 120,000 pounds and up. It features a 52-inch jaw opening, 64.5-inch jaw depth and over 12-foot reach from the attachment mounting pivot (boom or stick) forward. Genesis says it gave the Razer a lightweight design for fitting on most standard and high-reach excavators.
---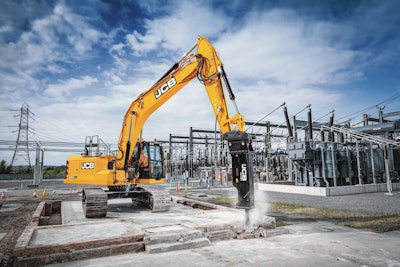 JCB's Contractor Breakers come in 14 models, from 265 pounds to 4 tons. They are compatible with JCB and other brand excavators from .6 to 66 tons. Features include accumulators to protect carrier machinery from hydraulic pressure spikes and internal control valves that deliver an efficiency boost. Models for carriers above 12.1 tons have auto-greasing. Those for carriers above 9.9 tons come with two-speed control valves. An auto-stop feature reduces blank firing. Vibro Isolation rubber buffers absorb repercussion to protect the carrier.
---
The CC30 Concrete Claw attachment, manufactured by Kubota's Land Pride subsidiary, is used for removing large sections of concrete floors, driveways, sidewalks and other large slabs. The teeth are slid under the concrete slab, then the slab can be lifted and loaded. The Concrete Claw has a universal quick-attach hitch that fits a variety of loaders. Its side panels are made of high-strength T1 steel to resist bending while prying concrete slabs, and they are reinforced for added strength and rigidity. The attachment matches Kubota's SSV and SVL Series loaders.
LaBounty, a Stanley Infrastructure brand, has added to its MSD Legend Series Shears to complete the lineup. The shears feature Dual Max Indexable Protection, which defends the tools from wear and reduces maintenance. The shears also deliver 10% more cutting force than previous models. They are compatible with InSite telematics, which provides job tracking, jobsite mapping and remote diagnostics. Other features include 360-degree rotation, an enhanced and more durable lower jaw, and long-lasting index blades for four-way indexable cutting. 
---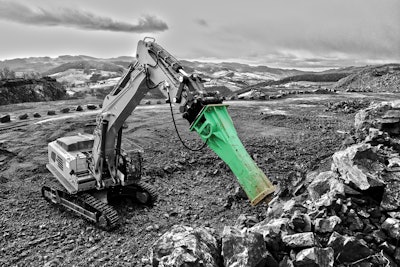 Montabert offers a broad range of hydraulic breakers, from 225 foot-pounds of impact to its largest and newest, the V7000, at 20,000 foot-pounds. The heavy breakers are equipped with an automatic pressure regulator that guarantees optimum performance regardless of oil temperature or hydraulic conditions, the company says. They feature blank-fire protection to reduce the energy exerted by the piston. An energy-recovery valve captures the recoil and converts piston bounce-back into additional energy. They also feature auto-lube.
---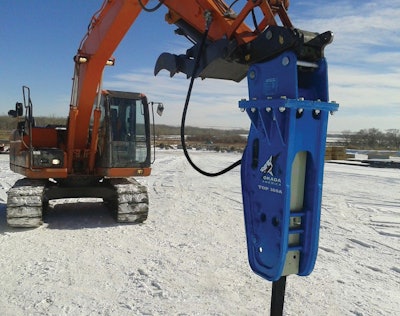 Okada's Top 100A hydraulic hammer model is designed for such task as demolition of heavily reinforced concrete structures, building foundations, trench rock and boulders. It breaks at 550 to 710 blows per minute and is geared to excavators of 22,000 to 42,000 pounds. It requires 29 to 35 gallons per minute of hydraulic-oil flow at 2,030 to 2,620 pounds per square inch of pressure. Features include a large-capacity accumulator to reduce pressure spikes, nitrogen gas to cushion the piston on the upstroke and increase force on the downstroke, and auto-lube.
---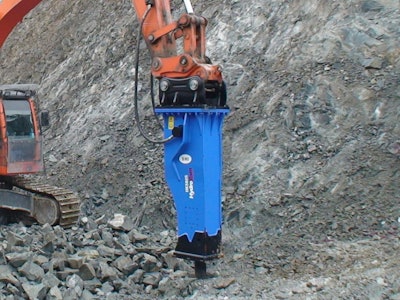 RJB Hydraulic Hammers' HydroRam Premium Series comes with a variety of features, such as anti-blank fire; blow frequency and power control; and dust intake prevention. Functions are also provided for oil-flow rate and speed control. An auto-lube system keeps bushings greased. Pads and side dampers are enclosed in the box housing to protect the power cell. The hammers are made of wear-resistant material designed to increase their durability, as well as reduce noise and strain on the operator and excavator. They come in three sizes, ranging from 6,000 to 14,000 foot-pounds of impact.