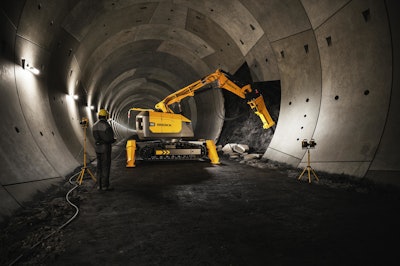 Brokk
Aside from being the original robotic machine, Brokk's remote-controlled loaders/toolcarriers have provided demolition contractors a safe way to work in dangerous places where you wouldn't want a worker to venture. The company is also now offering a range of attachments for shaft and tunneling in underground and confined-space work.
The attachments include Brokk's BHB hydraulic breaker series, as well as drum cutters, buckets, TEI Rock Drills and C20 Rock Splitters. With them, contractors can do things like open a tunnel face, installing rock bolts and other applications necessary for the tunnel development process.
The BHB series includes eight breaker models starting with the 110-pound BHB 55 breaker up to the 3,307-pound BHB 1500 for the new Brokk 900, which is suited for heavy-duty tunnel and demolition applications.
For excavation applications such as contouring and trenching, Brokk's drum cutters include the BDC 40 with a 15.2-inch cutting width and the RT 15-40 model with a cutting width of just 4.7 inches. The BDC 50 pairs with the Brokk 110, 120DII and 170 robots to provide a cutting depth of up to 1.2 inches at a width of 18.9 inches. At 24-inches wide and a cutting depth of up to 2.6 inches, the BDC 100 works with larger Brokk models — the 200, 300, 500, 520D and 900R.
The TEI Rock Drill series is a collaboration between Brokk and TEI Rock Drills. The offerings include six drills with diameters from 1.3-1.7 inches up to 1.7-3 inches. Drill controls are integrated into Brokk's ergonomic remote one button operation. At just under 26 inches long, the TE160-100 is the smallest drill attachment and delivers 35 to 60 foot-pounds of impact energy at 5,000 to 6,500 blows per minute. The drill also produces 100 pound-feet of torque and reaches rotation speeds of up to 250 rpm.
The C20 Rock Splitter series provides contractors with safe and quiet alternatives to explosives and hydraulic breakers. The series works with Brokk 300 and larger models to break up big boulders and solid rock in mining and shaft sinking applications as well as cross passage work in tunneling. For vertical applications, contractors can choose between the C20 C and C20 V. The C20 H can be used in horizontal applications, while the C20 J works in both horizontal and vertical applications.