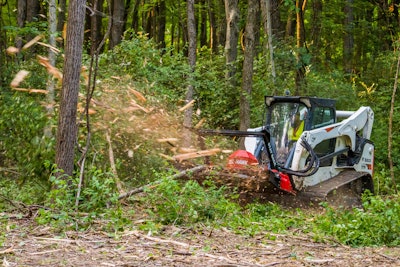 Fecon
Fecon has expanded its line of attachments with the launch of a new compact disc mulcher attachment for skid steers and compact track loaders.
The company describes the Disc Hawk as a "game changer for contractors looking to increase their productivity in large land clearing operations."
Senior Product Specialist Ryan Bricker said the Disc Hawk is specifically designed for high-flow CTLs and skid steers.
The unit increases productivity with a faster rougher cut either for first-pass vegetation removal or in instances where maximizing material dispersion without fine chip size is ideal.
The Disc Hawk is intended for mulching thicker vegetative material at higher speeds than traditional drum mulchers. A low-profile motor and deck configuration provides improved visibility and reduces material buildup.
"We strive to make solution-based products based on customers' needs," Bricker said. "We like to go out into the marketplace and help validate that the customers need these products and making sure that we're designing the features and the specs and all the right equipment to meet their needs."
In this instance, Fecon found that many customers were running drum mulchers and needed a disc mulcher. He noted that it wasn't about replacing a drum mulcher but more about adding a complementary attachment.
"We really took this unit and built it from the ground up, and so we got to understand the center of gravity and weight when it comes to stability and operating capacities on the skid steer," Bricker said. "Understanding that, we want to right the size of steel in the motor and the rotors for these units. We also had to take separate account of how far this unit sticks out, so not only you have improved stability of your skid steer but also visibility for whatever the work is that you're doing."
Fecon works with the OEMs in the development and testing of its attachments to ensure the components are right-sized for those specific flows and pressures.
"We do think that they can be very high-performance machines with the right expectations that something that has 30 horsepower isn't going to compete with something that's got 100 horsepower," he said.
With the Disc Hawk, Bricker said, testing has been done at the Fecon facility, and the next step is to get some out into the marketplace and ensure it meets customers' needs. The target markets include fire prevention and agriculture or farm site preparation.
"It does a great job of cutting down vegetation," Bricker said. "Now, that material is not going to be too small of a size, but it does a good job of getting it down on the ground, and it's good for material dispersion, which is preferred in lots of firefighting and reclamation."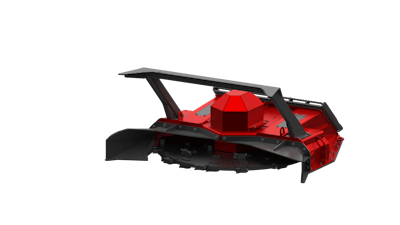 With a working width of 60 inches, the disc mulcher is purpose-built for 75- to 132-horsepower skid steers and compact track loaders that operate with as little as 30-50 gallons per minute of auxiliary hydraulic flow.
Configurable discharge and intake chutes allow operators to maximize productivity and dispersion needs based on application. The larger throat design of the open brush chute allows for higher material intake and faster processing of lighter vegetation-like brush. Conversely, the hardwood intake chute guides larger trees into the disc, resulting in quicker processing of thick vegetation.
For applications where material dispersion is preferred, such as in fire fuel prevention, the broadcast discharge chute is ideal for distributing material faster over large areas. Similarly, the processing discharge chute increases the mulching of finer material with dispersion back toward the ground, making it ideal for agriculture or farm site preparation.
In addition, an adjustable push bar allows operators to toggle between degrees of disc engagement, depending on the application. For example, in the forward position, the push bar guides small debris into the disc. Having the push bar in the furthest back position exposes more of the mulching disc for efficient processing of larger trees and thicker material.
The design of the disc ensures perfect balance over the lifetime of the mulching unit, and it comes backed by Fecon's 12-month, 1,000-hour warranty. The mulcher attachment features 24 bottom tools, 12 edge knife tools, and eight top tools, along with optional carbide tools.