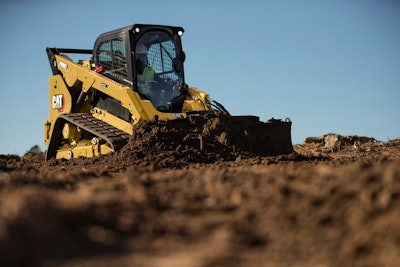 Cat
New external control kit options from Caterpillar have expanded the use of some Smart blade attachments to contractors still using Cat D or D2 series skid steers and compact track loaders.
The external joystick kits for GB120 and GB124 smart grader blades enable customers with older models to run those types of blades. In addition, a new 3D grade control kit uses existing connections to add automatic control to the Cat Smart dozer blade, opening up the advanced technology option for more contractors running 289 or 299D3 models.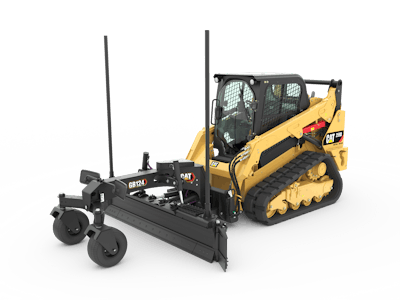 Grading smarter
Cat debuted its line of smart attachments at Conexpo-Con/Agg 2020.
(You can see more of what OEMs released at ConExpo 2023 on our show page by clicking here.)
"The smart attachment is when you plug them in, there's a handshake between the attachment and the machine," said Scott Britton, Cat's global marketing manager for attachments. The machine recognizes the type of attachment and adjusts joystick operations accordingly.
For example, a movement that might normally curl and dump a bucket, wags a blade back and forth.
"It's an awesome technology, and it's a really slick setup," Britton said.
The downside of the technology was being only available on the D3 skid steer and CTL models.
"Somewhere along the line, we had to draw a line," he said. "We needed the base machines to have X, Y & Z specs."
From the onset, Cat heard from customers who had fleets for 262Ds, 279D, or 299D2 models.
"We've been making skid steers and CTLs for a long time," Britton said. "There's nothing wrong with them, and 'Now I can't use your brand-new blade. Can you help me out?' they'd say."
After a few years of additional work, he said, Cat's answer is finally, "Yes, we can."
"We've done a bit of homework and figured out that it's really just operating on the joystick, and we just need to be able to communicate with the blade."
To make it work on all D-series skid steer and CTL models and select older Cat machines, there is now an optional third joystick mount for the cab.
"Once I have that and I have just that joystick and that blade, I can now put my brand-new smart grader blade on my previous-generation machine," Britton said.
GB120 and GB124 blades automatically detect whether they are on a D3 series or a machine equipped with an external controller.
"We've got a joystick kit that allows us to be backward compatible," Britton said. "It's opened up the market to potential 40,000-plus machines out there that customers have running that are reliable and can be upgraded with a simple joystick."
The new external control kit includes a third joystick for operating blade raise/lower, tilt, angle, and wing functions, like smart control for D3 series machines. In addition, it includes the wiring harnesses, a RAM mount, brackets and all the hardware required for smart grader blade control.
Britton noted that contractors can take it one step further and add Cat Grade and Earthworks GO! systems to have grade control integrated on their 10-year-old machines. The grade control system includes selectable modes for left, right and tandem control, as well as standard cross-slope assist and full proportional control of all functions.
"It's really simple and it doesn't seem like that big a deal, but it's taken years to develop," Britton said. "It opens up a huge opportunity for a customer that is thinking, 'Well maybe I don't really need to get a D3, but I'd really like the tech.'"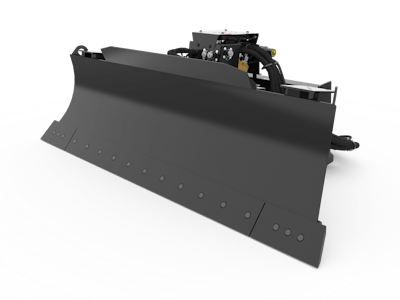 In 3D
Like the smart grader blade, Cat's smart dozer blade plays off the plug-and-play technology.
"The dozer blade is more of a cut tool," Britton said. "As you look at that application, contractors were asking to have grade control technology on it."
These customers had invested in the D3 series 289 or 299 using smart attachments. "They want to go one step further; they want to invest in their business," he said. "I've never met a customer that wishes they hadn't invested into the grade control tech. Now on the 289 and 299D3 machines, I can add 3D into that."
Cat worked with Trimble on the 3D GPS/GNSS grade control for smart dozer blades on Cat CTLs. It guides the operator to accurately grade planes, slopes, contours and complex curves. It provides blade vertical and horizontal positioning guidance, or the system controls the blade relative to a design loaded into the grade control system.
The base Cat smart dozer blade comes with all the required hookups to install 3D grade control components. Also, any software and hardware updates are available for existing machines and smart dozer blades to operate grade control.
"You're not just knocking down flat pads anymore. If you want to cut a golf course with that little 289, 299 CTL, you can," Britton said.