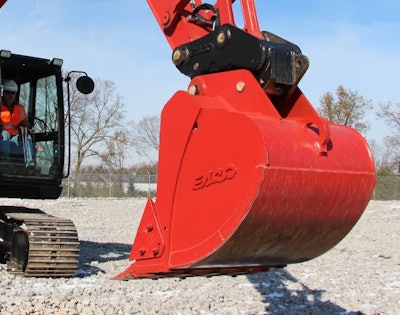 ESCO
Save time and increase safety during excavator attachment changes with the next-generation PosiGrab II hydraulic coupler from ESCO.
Available for 7- to 40-ton class machines, the PosiGrab II will pick up and release attachments within the same machine weight class while the operator can stay in the cab.
The coupler's independently secured front and rear locks are mechanically engaged through the entire working cycle and released with hydraulics. The standard position of the coupler is locked and only opens using forced hydraulic pressure, meaning the coupler will remain locked in the event of hydraulic system failure or a severed hydraulic hose. Operators can easily confirm that the front and rear locking mechanisms are properly engaged from the machine's cab.
The new design includes a weight reduction averaging 12% over previous ESCO models and up to 11% lower coupler height than leading competitors to minimize the impact on digging force, the company says.
When properly matched with OEM excavator buckets and attachments, the PosiGrab II will provide a safer and more reliable attachment engagement and change-over of various implements for added machine productivity and versatility, the company says. The PosiGrab II hydraulic coupler is specifically made to direct pin to the machines on the chart below: