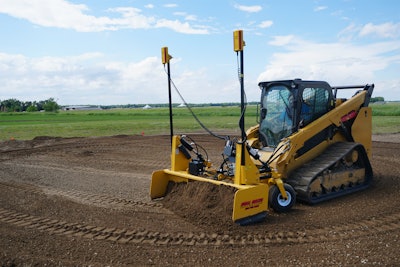 HitchDoc
Editor's Note: This story was updated August 21, 2023, with new products.
As the number and popularity of compact construction equipment continue to grow, so do the outpourings of attachments for performing a wide range of tasks beyond moving material.
You can turn you skid steer or compact track loader into a snowblower, landclearer, earthmover and even an asphalt paver.
So if you want to expand the range of your skid steer or CTL beyond loading and unloading material, check out these 19 attachments:
Earthmoving
The Dual Dozer laser grading system (pictured at the top of this story) from HitchDoc for finish grading features a dual-sided cutting edge so you can push or pull material and grade in any direction. Rear-mounted wheels let you bring more material to low spots, make tight corners and place material closer to edges. The Dual Dozer can be ordered with a standard quick-tach plate, three-point mount or both. It is compatible with Trimble, Topcon and Leica 3D or GPS mapping systems. The blade attachment can self-articulate up to 8 inches on either side. It comes with in-cab monitors and fingertip switches.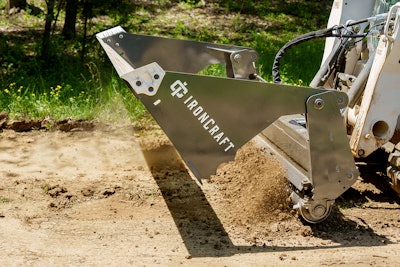 IronCraft's 4-in-1 Bucket and Power Rake can dig, load, grab, and back drag as well as prepare the soil without changing attachments. The 4-n-1 Power Rake is supplied with a smooth edge bucket; a bolt-on edge or welded teeth are optional. Users who opt for bolt-on teeth for more aggressive digging can raise the grapple and use the back side of the bucket as a smooth edge. IronCraft 4-n-1 Power Rakes are available in various widths and sizes. The power rake has a standard 7.5-inch-diameter drum with a direct-drive motor and side cutters.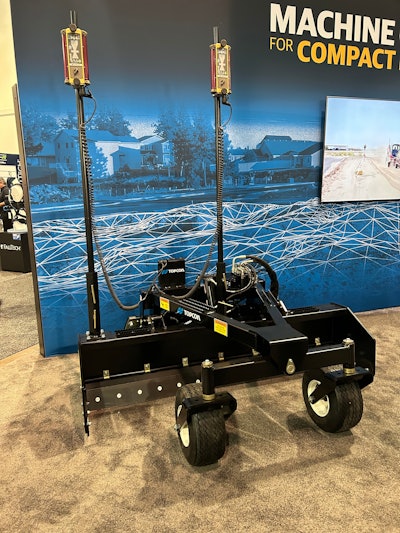 Topcon has expanded into the compact arena with its new automatic 2D grade control for compact track loaders. The 2D-MC system works with a box blade attachment and connects directly to the CTL's in-cab controls. The exterior masts attached to the box blade work with a typical jobsite rotary laser. The operator sets the grade with a tablet mounted in the cab. The system is compatible with major brands of compact track loaders that weigh at least 8,000 pounds. It can do finish grading for such things as house pads, drainage, roadside rights of way.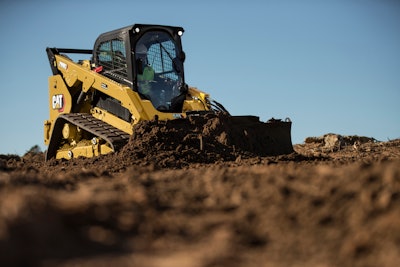 New external control kit options from Caterpillar have expanded the use of some Smart Blade attachments to contractors still using Cat D or D2 series skid steers and compact track loaders. The external joystick kits for GB120 and GB124 smart grader blades enable customers with older models to run those types of blades. In addition, a new 3D grade control kit uses existing connections to add automatic control to the Cat Smart dozer blade, opening up the advanced technology option for more contractors running 289 or 299D3 models.
ASV's six-way hydraulically controlled dozer blade for grading and leveling combines a dozer, grader and leveler that can be used in a variety of applications. It is available in 78- or 96-inch widths, depending on the machine size, weighing in at 800 or 970 pounds, respectively. There are adjustable depth shoes and a bolt-on reversible three-piece cutting edge.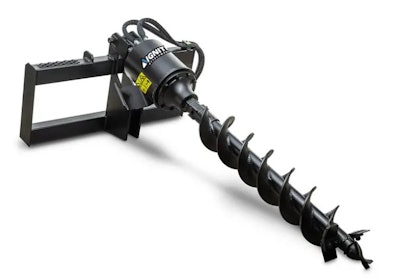 Ignite Attachments has a new auger line for skid steers and compact track loaders. The 75DDH and 165DDH augers are intended for digging deep holes in lighter conditions, such as clay, rock and frozen surfaces. The 75DDH has a hydraulic flow range of 8-20 gallons per minute, and the 165DDH has a hydraulic flow range of 14-25 gallons per minute. The 150 PH or 210 PH models are for more challenging digging conditions, such as rocky soil, layers of frost, heavy clay. The 150 PH has a hydraulic flow 10-20 gallons per minute, and the 210 PH requires 15-30 gpm.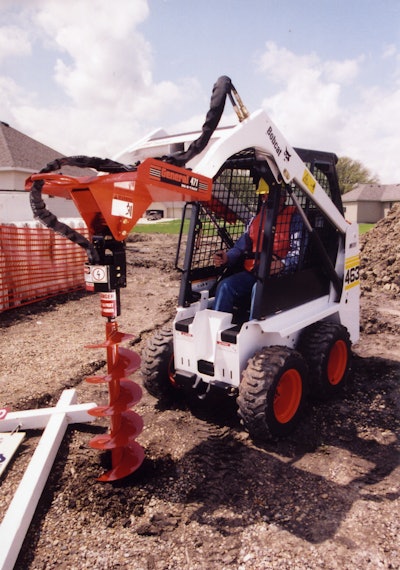 General Equipment Company's 471 DIG-R-TACH hydraulically powered earth drilling attachment system is designed for use with machines with lower auxiliary hydraulic flow rates. It comes with a universal mounting bracket that matches a variety of bucket configurations. It can be mounted quickly and easily on the loader's bucket by one person without special tools, drilling or welding because of positive-locking bracket grips. Augers are available in diameters of 2 to 24 inches to produce a clean 4-foot-deep hole. Auger extensions are also available
Landclearing
Fecon's new RK6015 mulcher is designed for standard-flow skid steers and CTLs of 50 to 75 horsepower and can chew through brush and trees up to 5 inches in diameter. The RK6015 has a working width of 60 inches and includes a split-ring design to limit the bite and maintain production. Features include a variable displacement 45cc hydraulic motor and adjustable bolt-on push bar with serrated ears for directing material. Flow ranges are 17 to 27 gallons per minute, and max pressure of 4,000 psi.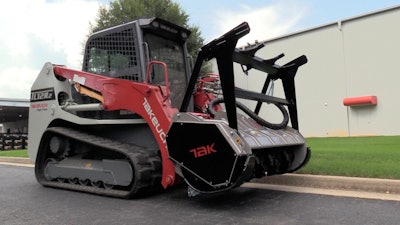 Takeuchi's TUML series Forestry Mulchers come standard or with bite-limiter drums, which limit tooth engagement to maintain motor speed while reducing stalling. The mulchers feature a low-profile frame design for better visibility and an enclosed door drive that prevents dirt from entering the machine's service areas. Heavy-duty adjustable skids and reinforced side panels deliver durability and frame strength to handle the force of the carrier. The mulchers' design with a protruding rotor allows more material to be processed quicker.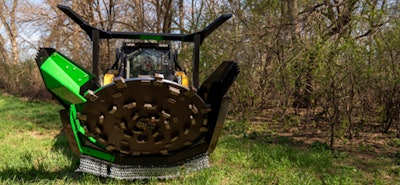 Diamond Mowers' new Disc Mulcher Belt Drive (BD) Pro X goes from zero to 1,000 rpm in a matter of seconds. The mulcher is designed for high-volume use and productivity and features increased torque to clear a path without slowing down. It couples a belt drive with a two-speed hydraulic motor to increase torque and disc speed. The disc speeds up during re-processing and back-dragging. The belt drive system acts as a torque multiplier when slicing through large materials and enables it to recover quickly.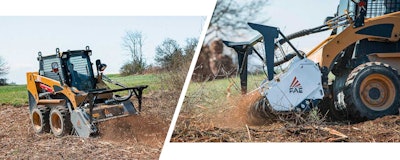 Shred material up to 4 inches in diameter with the new BL1/SSL/VT forestry mulcher for 45- to 65-horsepower skid steers from FAE. Available in a 49-inch width, the BL1/SSL/VT is designed for vegetation maintenance along roadsides, railroad tracks, the banks of canals, rivers, lakes and commercial and residential green areas. The attachment features a Variable Torque piston engine that increases mulching torque when an extra boost of power is needed to reduce rotor stalling. The BL1/SSL/VT can be equipped with the standard Mini BL blades or optional Mini C/3 teeth.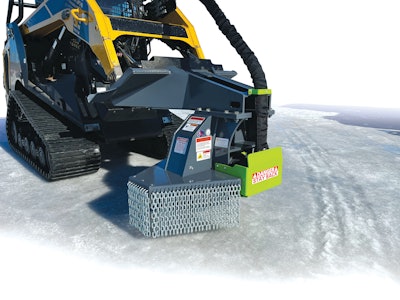 Loftness' rigid-mount Stump Ax can work faster than articulating stump-grinder attachments. Operators reposition the power unit instead of swinging the cutting wheel. Its angled hitch and forward-reaching boom also give operators better visibility and control. The Stump Ax is equipped with a 31-inch Leonardi Phantom Wheel with Tomahawk teeth. A 200-cc SAI high-torque radial piston motor is compatible with skid steers and compact track loaders with 30- to 60-gallon-per-minute hydraulic flow. The unit can be mounted either forward- or rear-facing.
Snow clearing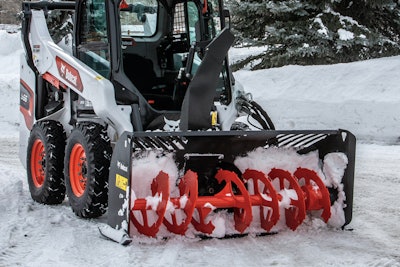 Bobcat's new snowblower attachment features increased intake height and a bigger auger to draw more snow into the blower for faster clearing and fewer passes. A direct-drive, sprocket-style chute rotation enables operators to point snow within 270 degrees for precise placement, even in hard-to-reach places such as ditches or inside wooded areas. It can break through ice buildup and does not use chains, which can rust, loosen or break. The chute's rounded, smooth intake minimizes clogging and reduces resistance. A truck-loading chute is optional.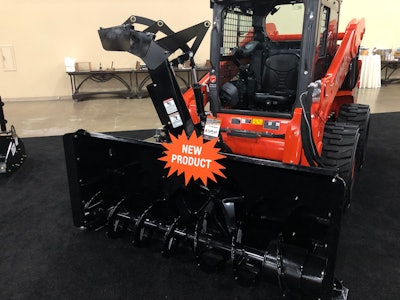 Kubota is launching new snowblowers for its equipment through its Land Pride subsidiary. The SBL30 series features two motor options to accommodate hydraulic oil flow of 17 to 23 gallons per minute or 27 to 33 gpm. They come in widths of 74 or 84 inches. They also have two chute options for dumping snow. There is a standard chute and an optional all-new fold-over chute that enables you to dump snow beside the skid steer or compact track loader. A flat plate option is available for the skid shoes for when you come up against curbs or other tight spaces.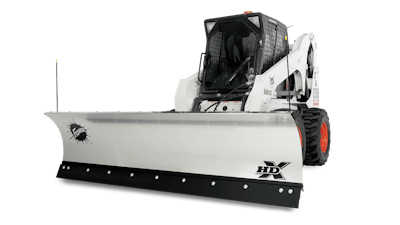 The HDX straight-blade snowplow from Fisher is designed for fast, easy hookup. Its adjustable blade attack angle lets you customize your setup to plowing surfaces, weather conditions and plowing preferences. The blade angle is powered by the host machine's hydraulic components. Relief valves protect the operator and the equipment when encountering hidden obstacles. The HDX can be used to clear large parking lots and can maneuver between cars and parking islands.
The Western Prodigy skid steer snowplow features wings that move automatically with no additional wiring or controls. The universal skid-steer mounting plate makes hook-up fast and easy. Simply align the mounting plate with the skid-steer u-plate, engage the pins, and you're ready to plow. The plow uses the skid steer's hydraulic system to lift and lower the blade. It's also available with an optional oscillating mount that provides 6 degrees of total side-to-side oscillation, helping to improve scrape and cutting-edge wear while reducing damage to the terrain.
Sweeping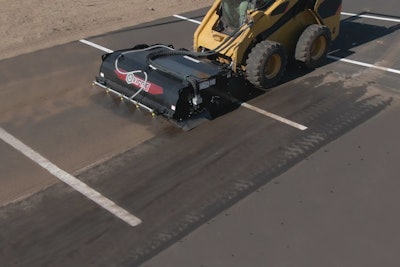 When it comes time to clean up your jobsite, Virnig's Internal Water Tank Broom for skid steers controls dust as you sweep. The protected 55-gallon tank behind the bucket provides 35 minutes of continuous runtime. The translucent tank has capacity indicators so water level can be viewed by the operator while in the cab. The guarded adjustable valve regulates water pressure to the nozzles. The broom is available in 72 or 84 inches. Features on the broom include a recessed and guarded direct drive motor, heavy-duty bucket with wear bars, bolt-on edge, oversized 2-inch bearing, poly/wire bristles and pin adjustment system.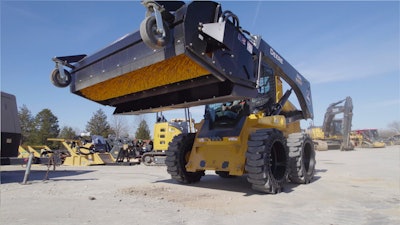 Werk-Brau now has new hydraulically driven Skid Steer Brooms for cleaning, clearing and pickup of dirt, debris, grass and more. They are available in 6-foot widths with a 14.3-cubic-foot hopper, or 7-foot widths with 16.1-cubic-foot hopper. Each is fitted with heavy-duty, 10-inch, 360-degree swivel casters. The hopper is dumped using the loader dump function. Polypropylene brush with wire filaments provides long service life. The brooms are powered by a single hydraulic motor capable of 8-11 gallons per minute of flow. Higher flow motor options are available.
Paving
Contractors can turn their skid steer into a paver to patch and pave roads, pathways, bicycle tracks, parking lots, driveways and utility trenches with the new Mazio skid-steer-mounted Skid Paver. The attachment, which can be installed on any type of ISO 24410 skid steer loader, has a 1.5-cubic-yard hopper capacity, a paving width of up to 6.2 feet and a paving speed of 82 feet per minute. It can lay down hot or cold mix asphalt in thicknesses of 2 to 10 inches, while a liquid propane gas heater keeps the material heated to 284 degrees Fahrenheit.