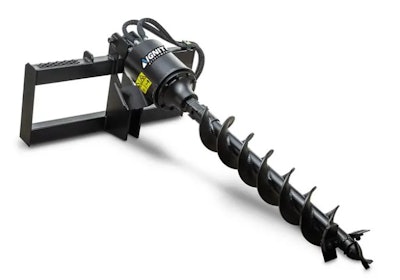 Ignite Attachments
Ignite Attachments has expanded its offering, adding a new four-model auger line for skid steers and compact track loaders.
The 75DDH and 165DDH augers feature a classic-drive system, which provides productive torque at any rpm and easy maintenance, the company says. The models are intended for digging deep holes in lighter conditions, such as clay, rock and frozen surfaces. The 75DDH has a hydraulic flow range of 8-20 gallons per minute, and the 165DDH has a hydraulic flow range of 14-25 gallons per minute.
For more challenging digging conditions, including shale, rocky soil, layers of frost, heavy clay and more, Ignite recommends the 150 PH or 210 PH. The models feature a planetary drive that maximizes torque and power. The 150 PH has a hydraulic flow range of 10-20 gallons per minute, and the 210 PH requires 15-30 gallons per minute.
All four models have a digging depth of 50 inches when using the standard bit. An optional extension will allow operators to hit depths up to 86 inches.
The augers feature a joint between the mounting frame and drive unit to ensure straight, vertical holes even while working on uneven ground.
"We've taken the guesswork out of digging," said Matthew Foley, lead engineer of Ignite Attachments. "With our self-balanced alignment feature, customers don't need to worry as much about the loader's stance. They can get perfectly straight holes every time."
Ignite offers direct-to-consumer sales for its entire lineup of attachments. Customers can use Ignite's Fit Finder to match the attachment to the carrier machine's specifications.