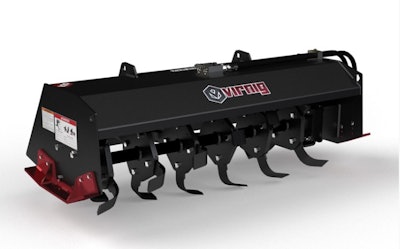 Virnig
Beyond just mixing and loosening soil, Virnig's new V20 Mini Skid Steer Tiller attachment can help with grading, leveling, fertilizing and weeding, the company says.
With 24 heat-treated, dual-edge tines, the tiller can quickly prepare soil and cover tracks. It can be used in either direction, but it is designed to till away from the operator. Virnig recommends the tiller tines travel in the same direction as the mini loader. The bolt-on tines can be quickly replaced. The tiller is 48 inches wide.
Adjustable skid shoes allow the digging depth to be adjusted to 4, 5 or 6 inches deep. The tiller shaft is supported by 2-inch-diameter bearings on each side. If the operator is consistently stalling the tiller rotor, Virnig says, they should reduce their ground speed, raise the tiller higher, or lower the skid shoes.
The tiller comes equipped with a high-torque Eaton motor guarded on the bottom and sides for durability and reduced maintenance.
The tiller should not be used on sticky or wet ground. Mowing and removing tall grass and weeds before tilling an area will improve tiller performance by minimizing the wrapping of the grass and weeds around the rotor, Virnig says.
Buyers can choose from three mini skid mounts: mini universal (all brands except Bobcat and ASV), Bobcat Mini or ASV Mini. None of the mounts are compatible with a universal skid steer mount.
Quick Specs:
Working Width: 48 inches
Overall Width: 64.9 inches
Overall Height: 22.2 inches
Overall Depth: 26 inches
Tilling Depth: 6 inches
Drum Diameter: 18.5 inches
Number of Tines: 24
Recommended Flow Rate: 10-18 gallons per minute
Weight: 470 pounds (Bobcat mount adds 10 pounds to model weight.)
Recommended Loader Capacity: Greater than 500 pounds