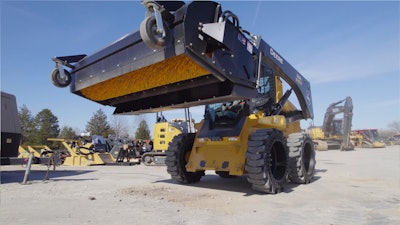 Werk-Brau
When it comes to cleaning up a work site or other areas, Werk-Brau has launched Dump Bucket Pick-Up Brooms for skid steers to remove dirt, grass and various debris.
The hydraulically driven attachments for skid steers can clean, clear, pick up and dump materials. They come in two sizes: 6-foot wide with 14.3-cubic-foot hopper and 7-foot wide with 16.1-cubic-foot hopper.
The material in the hopper can be dumped with the skid steer's dump function. Chains on the loader arm support the hopper during dump function. The hoppers are also fitted with heavy-duty, 10-inch casters that can swivel 360 degrees.
The brush is made of polypropylene with wire filaments that are designed for long life, the company says.
The brooms' standard single hydraulic motor works on hydraulic fluid flows of 8 to 11 gallons per minute. Dual hydraulic motors are available for 20 to 44 gallons per minute and 16 to 28 gallons per minute. The brooms can reach speeds of up to 200 rpm, Werk-Brau says.
The brooms come with a universal mounting kit for skid steers with pin-on ears. Custom mounting designs are also available.
Owners can also add on gutter brooms, a 45-gallon brush-hood-mounted sprinkler system and sight indicators.
The hopper bucket is made from 10-gauge steel with 3/8-inch side plates and includes ¼-inch wear bars welded to the bucket bottom. Rubber deflectors contain material, and there is a replaceable cutting edge.
To watch a demonstration of the broom, check out the Werk-Brau video below: