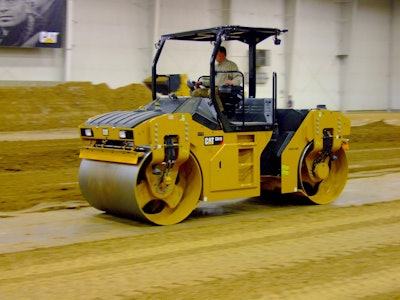 Caterpillar has introduced a new compactor, the CB10, featuring the company's first oscillatory vibration drum, as well as a new compactor nomenclature.
The new system will be available as an option on the rear drum of the machine.
Bryan Downing, sales support consultant for compaction equipment, says the oscillation was a key feature to add with changing trends in the paving industry.
"The oscillatory vibe system does different compaction than our traditional vibratory systems, as it creates compaction through a massaging motion," he says. "This is important in asphalt compaction for thinner lifts. Most of the paving process done today are on thinner lifts, so this system provides a good solution."
"The amplitude and frequency selections of our conventional systems provide great flexibility on some of the tougher, thicker lifts," Downing adds. "Now combine this with an optional oscillatory rear drum and we can actually create compaction in sensitive areas."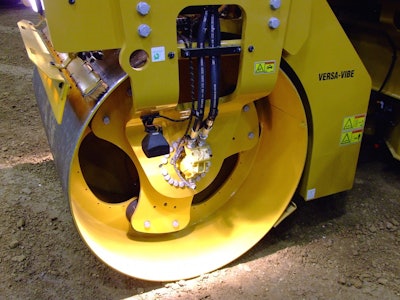 Cat is giving the new system a 2-year/2,000-hour service interval, compared to 3-year/3,000-hour for the conventional system. "This is about double what most of the competitors offer in the industry," Downing says.
The company also is using power transmission belts with the oscillatory system, instead of the commonly used timing belts. These belts, Downing explains, have about double the life of a timing belt.
A hardened rear drum option will also add to machine life, Downing says, because of the nature of oscillatory vibration and aggregate hardness.
"Many aggregates used in asphalt base materials are very hard," he explains. "What commonly happens with oscillatory compaction is the movement actually skids across the top of the asphalt layer. The hard aggregates will then introduce wear on the drums."
The CB10 also includes features available on the CB54B, with improved visibility and control and all the elements within the Cat Compaction Control system, such as Auto-Adjustable Compaction, machine-to-machine communication and intelligent compaction features.
Nomenclature change
Caterpillar is going through a transition in nomenclature starting with the medium asphalt compactors, Downing says.
The CB10 was previously labeled the CB54B. The numerical designation—in this instance 10—represents the metric tonnage of the machine. "Quite simply stated, a CB10 is a 10-ton asphalt compactor," he explains.
Phasing into this renaming will be the CB7 (previously CB44), CB8 (previously CB46), CD8 (previously CD44) and CD10 (previously CD54).