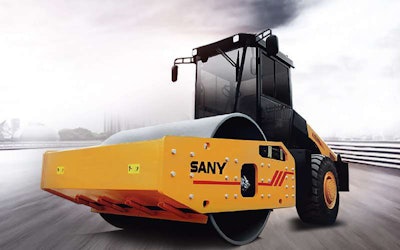 Sany has introduced two new single drum rollers featuring a new vibration pump for faster oscillation start times.
The 20-ton SSR200AC-8 and 22-ton SSR220AC-8 both have a width of 83.6 inches and are now equipped with a Bosch Rexroth vibration pump. Sany says this pump provides large volume delivery and stable power transmission which shortens the start time of oscillation on these models to only 3 seconds.
Sany has also added a new dual frequency and double amplitude vibratory mode the company says generates more excitation force and better compaction performance.
Both rollers are powered by a WeiChai WP6G200E331 engine providing 197 horsepower, improved gradeability and better performance in fixed speed. The machines also feature a "Thermal Conduction Control" system that allows operation in temperatures up to 114 degrees Fahrenheit.
The enclosed cab provides operators with a 1 meter x 1 meter rear view window.