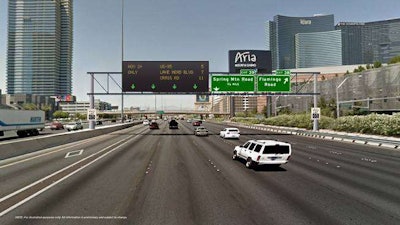 Earlier this month, the Nevada Department of Transportation (NDOT) began upgrading the way it alerts motorists by installing the first of 52 Active Traffic Management (ATM) signs on a portion of U.S. 95,  the Las Vegas Sun reports. The signs are part of Project Neon, a nearly $1 million project that includes widening 3.7 miles of Interstate 15 from the U.S. 95 interchange to Sahara Ave.
The steel gantry-supported ATM signs will go up in groups of three with installations continuing through July 2019.
"We are initially going to focus upon the Spaghetti Bowl, approaching the Project Neon construction work zone in order to minimize commuter delays," NDOT spokesman Tony Illia told the news agency. "The initial three signs will be erected along northbound U.S. Highway 95 by early June; they should be operational by late September."
Interstate 15 will get the next three ATM signs, followed by southbound U.S. 95. The largest signs are 13 feet tall and 77 feet wide, and resemble the scoreboards found in ballparks or stadiums.
"The full-color dynamic message signs provide next-generation, real-time information to motorists about detours, accidents and traffic restrictions," Illia told the newspaper. "They are far more sophisticated than the existing dynamic signage, showing travel times to freeway exits; also, they can be programmed to inform motorists of lane closures and blockages that occur with traffic accidents or construction. Signs will show the status of every lane as motorists approach the Spaghetti Bowl."
In addition to the large video screens above the highways, new digital speed-limit signs will go up next to most ATM signs on the freeways, allowing NDOT to modify speed limits in the case of a crash or road hazard. The new high-tech signage will provide increased safety.
"U.S. agencies and counties who have invested in ATM systems are realizing significant reduction in primary and secondary crashes, with a minimization of injuries, fatalities, delays and congestion," Illia told the Las Vegas Sun. "The greatest benefit is crash reductions, especially on weekends. This is attributable to 'non-commuter' drivers who may not be familiar with the area, which is especially relevant in Las Vegas where large numbers of tourists drive the I-15 corridor daily."