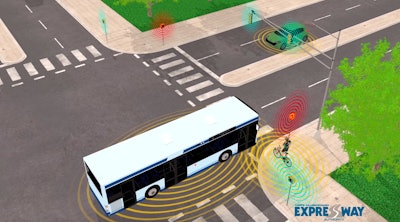 The Tampa Hillsborough Expressway Authority (THEA) reports it is getting ready to test new technology as part of its Connected Vehicle Pilot Deployment project now that its partner, Brandmotion, has selected equipment providers.
The three companies, Comsignia, Savari and Sirius XM, will provide communications equipment to be added to buses, streetcars and private vehicles later this year as part of the Tampa Connected Vehicle Pilot. The equipment will allow the vehicles to communicate with each other and infrastructure, including traffic signals and crosswalks.
THEA reports pedestrians can participate as well by using a smartphone app.
"The goal is to provide equipped drivers, transit riders and pedestrians in downtown Tampa a range of safety and mobility benefits, including crash prevention, enhanced traffic flow and greenhouse gas reductions," the agency reports.
The three equipment partners will provide onboard units to be installed in the vehicles, with Brandmotion handling the "systems integration and testing."
The pilot program is part of the U.S. Department of Transportation's Connected Vehicle Pilot Deployment Program selected in September 2015. THEA received a $17 million contract to implement the project.
THEA is also involving in the project Siemens, HNTB, University of South Florida Center for Urban Transportation Research and Global-5 Communications, with other partners including the Florida Department of Transportation, the City of Tampa, the Hillsborough Area Regional Transit Authority, the TECO Line Streetcar System and Hillsborough Community College.
More details are available at www.TampaCVpilot.com.