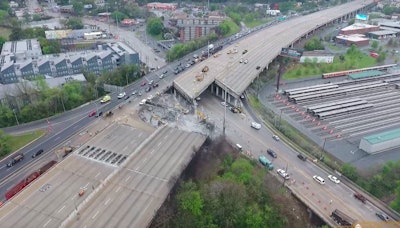 The Georgia Department of Transportation (GDOT) plans to resurface 6.6 miles of Interstate 85 near the current section of roadway closed for bridge reconstruction due to the March 30 collapse to "minimize additional disruption" to motorists in the area.
GDOT says the resurfacing project, valued at $22.9 million, and extending from I-75/SR 401 to Clairmont Road, had been delayed until the agency came up with a plan to complete the work that would reduce the impact on the traveling public.
"Georgia DOT recognizes the inconveniences faced by motorists due to the closing of the I-85 at Piedmont Road area," says GDOT Commissioner Russell McMurry. "We have carefully thought this through and determined that getting a jump on this essential resurfacing is an opportunity to limit the public's stress and inconvenience, while also using our time and resources sensibly."
One of the two contractors for the project, C.W. Matthews, is also performing the I-85 bridge reconstruction work over Piedmont Road. E.R. Snell is the other contractor. Each will resurface the roadway in a single direction and will work at night, with no daytime lane closures on weekdays.
Work began Thursday night and the expected completion date is February 28, 2018.