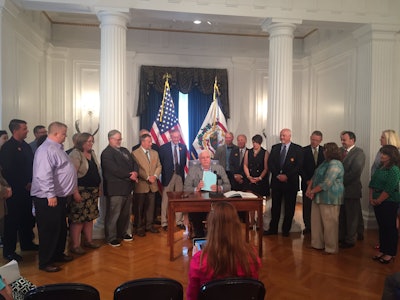 West Virginia Gov. Jim Justice has signed into law legislation that will provide funding to the State Road Fund through a combination of tax and fee increases.
"I'm really proud of the fact that we've got a roads plan that is historic in every way," Justice says. "This will create tens of thousands of jobs and it is historic in that its size is something that has never been done in our state."
The legislation will provide for approximately 500 projects by increasing the floor on the average wholesale price for gas by 3.5 cents per gallon, creating a registration fee for electric vehicles, increasing the sales tax on vehicle purchases by 1 percent and increasing Department of Motor Vehicles registration fees by $20.
"We passed an incredible roads package," Justics adds. "What it will do for our state is unbelievable and it will bring employment like crazy. This will save the day. This is the 800-pound gorilla in the room."
Another component of the bill is a bonding referendum that will be up for a vote by state residents later this year that would provide additional funding for a highway program Justice is eyeing.