Volvo Construction Equipment is inviting roadbuilders to two Road Institute classes, and early registration can get you a 25-percent discount.
The Road Institute covers asphalt paving training, compactor training and paver training, including courses covering best practices and mechanics.
Here are the two classes being offered:
Paver hydraulic and electrical systems, step one, (P700.P700B), is Session No. 201 and runs Oct. 1-5 in Chambersburg, Pennsylvania.
Paver and compact operation and maintenance (Topcon) is Session No. 101, Oct. 23-26 in Shippensburg, Pennsylvania.
If you register now for courses attended by Dec. 31, 2018, you can qualify for the 25-percent discount from the course fee. For a registration form and more information, click here.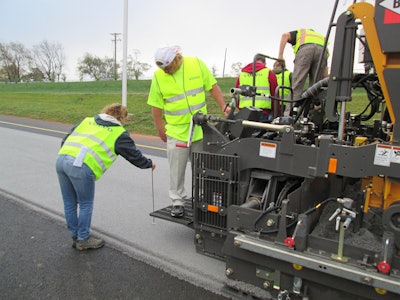 The Road Institute provides the paving contractor, operator, agency and industry personnel with an important link between equipment technology and industry applications.
The courses and seminars are designed to improve an operator's skills with both theory, which is taught in the classroom, and hands-on operation of Volvo Road Machinery equipment.
A student need not own or operate Volvo Road Machinery equipment as a prerequisite to attending training. "We are interested only in providing the best training in the industry," the Road Institute says.