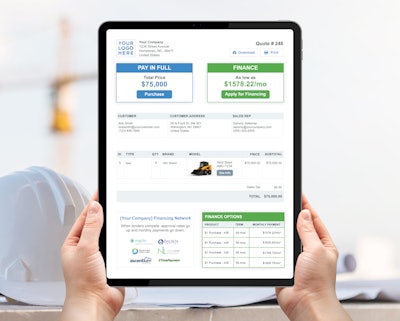 Kwipped
Financing should be hand-in-glove with your sales process, says Robert Preville, founder and CEO of B2B equipment marketplace Kwipped.
"You want to differentiate yourself by adding affordability as a buying attribute," he says. "Financing shouldn't be an afterthought."
To support this stance, Kwipped cites these statistics from a 2019 survey by the Equipment Leasing & Financing Association: while financing accounts for 63% of all commercial and industrial sales only 9% of equipment suppliers actively promote financing in their sales process.
Adding to the problem is that traditional financing can be a slow and cumbersome process, Kwipped says. Visibility and control of the customer and the sales opportunity is handed over to the lending company. Not only that, about half of the financing applications are declined.
Click and finance it
So Kwipped has launched Approve, designed to give equipment sellers a self-branded click-and-finance-it option for their buyers.
Kwipped calls Approve a "revolutionary equipment financing solution" in which a network of lenders compete to finance your customer's equipment purchase, much as they do for home mortgages.
Approve automatically calculates the monthly payment amount, which can be displayed next to the product sale prices on your website and/or digital customer quotes. By filling out a form that just requires seven pieces of information (more if a customer has been in business for less than three years), customers can submit a financing application without leaving your site.
Salespeople can also share the application via email or text. Approve can also be accessed in on sales brochures or company displays through a QR code that is specific to a machine.
Lender competition
Approve sends your customer's info to lenders on its platform. Prime credit lenders receive first stab at the business and are given a two-hour window to respond. Since these prime credit lenders typically have automated credit decisions, responses can be instantaneous. The first three lenders to approve a customer's application send their quotes; customers choose their preferred lender and the lender pays the equipment seller.
Kwipped says lender competition drives quick turnaround times, leading to lower costs and higher approval rates. This in turn means more sales.
If an application gets declined it goes down to near prime and subprime lenders. "Interest rates are a bit higher than what you'd get from a bank," Preville says.
Preville says Approve can help a variety of equipment sellers, including direct-to-customer OEMs, independent dealers, resellers and even mainline OEM dealers – which may have access to OEM captive financing for their primary lines but have ancillary lines that are not covered by the captive. And, of course, most dealers sell multiple brands of used equipment, another opportunity to use Approve.
For customers, it means they don't have to go shopping for finance, especially appealing for customers that have not-so-great credit. "Just because they've gotten declined it doesn't mean there's not a lender out there who aligns with your credit quality and has a strong understanding of the asset class," Preville adds.
Track the deal
By using the Approve platform, Kwipped says, sellers can track, monitor and manage customers and financing deals throughout the process. Since buyers never leave your site, they continue to be engaged in your – not the lender's – brand.
Approve can also be accessed in on sales brochures or company displays through a QR code that is specific to a machine.
The platform also brings together a fragmented lender landscape. "We are essentially considered a finance broker," Preville says.
"Having a network of lenders maximizes approval rates, and on the lender end, minimizes the cost of financing in a way that no one lender can do themselves," Preville says.