Equipment-centric disaster relief
Tad Agoglia and his crew arrived to what was left of Haiti within a week after the 2010 earthquake. As the team used their Cat excavator and Peterbilt dump truck to clear the rubble for a medical clinic, he was struck by the vast need surrounding him.
"In that moment I began to realize no one organization can fix everything," Agoglia says "but it's extremely important we all make a contribution."
Three years earlier, after a tornado tore through Greensburg, Kansas, Agoglia began what would become First Response Team. He used heavy equipment from his own for-profit business to help Greensburg residents and business owners in ways other organizations could not.
"I saw a need for heavy lifting," Agoglia says. "I wanted to take what I had and see if I could assist."
In 2009, about 18 storms after the Agoglia's first call to help, First Response Team officially became a not-for-profit, responding to disaster sites within hours after the storm. Companies like Cat, Stihl, Peterbilt and more began donating critical equipment to Agoglia's efforts.
Agoglia spent the majority of his 20s building his former company, but he wasn't quite satisfied until he began his disaster relief. "This is part of being human," Agoglia says, "to help when people are in need."
The First Response Team has grown to seven people. Agoglia said he is in the process of adding local equipment owners and truck drivers from his hometown to the team. For more information, go to firstresponseteam.org.
– Amanda Bayhi
Kick the tires at ProPickup Truck Expo
The ProPickup Truck Expo, a new automotive aftermarket tradeshow showcasing full-size pickups and accessories, will be part of Intersection 2012 at the Dallas Convention Center in Dallas, Texas, August 23-25.
The expo, presented by ProPickup magazine, will include educational seminars, product demonstrations, displays of new products, pickup ride-and-drive programs and customized work pickups. It is a trade-only show focusing on full-size pickups as well as related accessories and services.
GMC Truck and Ram Trucks, among other manufacturers, have signed up for booths to exhibit their full-size pickup parts, accessories and services.
For more information, visit propickupexpo.com or
intersection2012.com. (ProPickup comes to Equipment World subscribers every other month. To view past issues go to propickupmag.com.)
Stolen machines likely recovered nearby
Light utility trucks, work trucks and trailers, backhoe loaders and wheel loaders were among the top machines stolen in 2011, according to a LoJack survey of equipment theft statistics from 21 states.
Top theft targets were 5-year-old and newer equipment. And it's local: in 95 percent of the cases, stolen equipment was recovered in the same state in which it was stolen.
LoJack says top causes of the growth in equipment theft include a the fact construction equipment is not titled or registered, machines have Product Identification Numbers rather than the automotive standard 17-digit Vehicle Identification Number, a high demand for equipment, poor jobsite security and an increase in the difficulty of detecting theft.
Top five states for equipment theft:
1. California
2. Texas
3. Florida
4. Georgia
5. Arizona
Top five brands stolen:
1. Ford
2. John Deere
3. Caterpillar
4. Bobcat
5. Case
For more information, visit lojack.com/Knowledge.
From the blog:
The following stories are excerpted from The Construction Blog. To read more, visit equipmentworld.com/category/construction-blog.
The telematics pain point
We had heard some grumbling earlier in the year about problems with Tier 4 engines – specifically early clogging of diesel particulate filters. Cold weather and high altitudes seemed to be the main culprits. But the fleet managers we talked to at a recent Association of Equipment Management Professionals' board meeting say that what few problems they've had were well taken care of by the equipment OEMs with some engine tweaks. Overall, the new emissions-compliant engines were up and running well.
Much to the industry's chagrin, the adoption of telematics by heavy equipment fleet managers remains stuck at 10 to 15 percent of potential users.
A bigger challenge seems to be integrating telematics systems with back office software sufficiently so fleet managers can make sense of all the data. Fleet managers say they're getting flooded with data but having problems sorting it all out or turning it into useful metrics. As a result, a lot of them were just ignoring the data, even though it comes free for at least a few years on many new pieces of equipment. Much to the industry's chagrin, the adoption of telematics by heavy equipment fleet managers remains stuck at 10 to 15 percent of potential users.
AEMP is aware of the impasse and plans to address it in a half day educational workshop at their fall Asset Management Symposium, October 30-31, in Louisville, Kentucky (aemp.org).
– Tom Jackson
Looking for new technicians? Think local
The Associated Equipment Distributors has re-released the results of a 2008 study of equipment technician recruitment for a good reason – not much has changed. As outlined by a focus group of equipment managers in our May issue, recruiting issues are not easily solved.
Two things resonate in the AED study: Since 59 percent of techs interviewed worked within 50 miles of their hometown – defined as where they grew up and went to school – and 82 percent lived within 100 miles, the research concluded a dealer's largest pool of potential future technicians are locals. The same would be true of contractors, who often compete with dealers for the same technicians.
Another interesting finding: Almost all the technicians surveyed complained about high tool costs, most of which come straight out of their pockets. Perhaps an area for recruitment: You agree to pay a percentage of a recruit's tool costs after they've successfully completed a probationary period.
– Marcia Gruver Doyle
30,000 Legos later
Working alongside Cummins engineers, a Brickworld Build Team, made up of middle school science, technology, engineering and math (STEM) students and teachers met during the Brickworld Lego convention in June with one goal: to fashion 30,000 Legos into a 4 foot x 3 foot x 2 16-cylinder, 4,000 horsepower QSK95 engine. The students fashioned 40 different modules to create the replica. Cummins plans to repeat the Lego-building feat throughout the year on college campuses and at career fairs.
– Wayne Grayson
How one contractor lets its people shine… on its website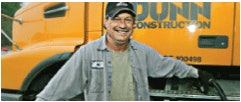 Construction companies usually offer straight stuff on their websites – a here's-the-facts approach without a lot of gimmickry. That's understandable: contractors are known for getting in, getting it done, and getting out.
Dunn Construction, based in Birmingham, Alabama, has that same can-do attitude, but the company's website, dunnconstruction.com, shows off its capabilities with unusual flare.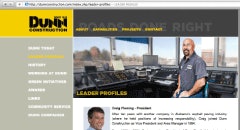 Each page on the website has a large picture of an employee in his work setting – foremen on the job, mechanics in the equipment, asphalt plant personnel in the control room. The company also makes use of full-body pictures of employees in full work gear, from roadwork site garb to office attire.
There's a good message here: we are our people. Here's what we do, here's who to contact, give us a shout.
– Marcia Gruver Doyle