After studying engineering in Ecuador, Michel Noury immigrated to South Florida at age 20 to see if he could make a go of it in the United States. He joined forces with his brother-in-law, also from Ecuador, and the two of them worked for several construction companies before starting out on their own in 1991.
One year later, Hurricane Andrew rampaged through Florida, and its wake left plenty of work for companies like theirs, for cleanup and for rebuilding infrastructure. Starting small with limited capital on hand, the two men rented most of their equipment and got to work rebuilding South Florida.
Dealing with the downturn
In 2010, during the Great Recession, Noury's brother-in-law exited the business, and Noury struck out on his own. Noury's background and ability to analyze all aspects of the business kept the machines running and the crews working as the recession wound down.
The first years on his own were difficult, he admits. "You have to have money in the bank to continue to operate," he says. "I had to rely on my own line of credit on my house to continue with the business, and in this business, you have a lot of uncertainty."
The loyal core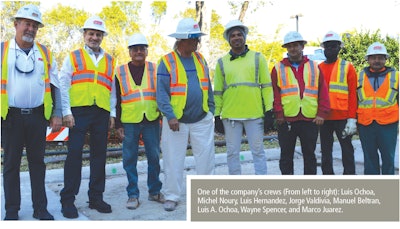 Noury downsized his fleet, keeping just enough to do the work on hand and used rental purchase options to rebuild the fleet as business improved. He brought over a core group of people from the old firm, including his controller, general superintendent and three foremen. "They were people I knew that I could trust and vice versa," says Noury. "They are all still with me."
Realizing early in his career that managing equipment cost is key to running a successful construction company, Noury paid close attention to these critical assets. He also kept two mechanics on staff to do all the regular maintenance, to repair and rebuild auction bargains and to keep the new equipment in good shape and help retain its value.
On his own, Noury started small and took his time to make sure previous customers were comfortable with his ability to execute the projects. "The relationships you develop in this industry are critical," he says. He also shied away from competitive-bid public work where the jobs were bigger but the margins smaller. "I'd rather go slow and get the right job than get a lot of volume and have all the headaches and change orders," he says.
Growth strategy
As the company got bigger, however, it landed bigger projects and pushed through the lean times. It won a bid to demolish the old tarmac, asphalt and warehouse foundations at the Fort Lauderdale airport and secured a $5 million job for the foundation excavation, utilities, drainage and roadways comprising Terminal 25 at Port Everglades, where cruise ships dock. "The work had to be done on time, no matter what," Noury says, "because a new cruise ship was coming. The timing was the most complicated part of all of it because all the trades involved."
Having his own company is great, Noury says. "I see it like a baby. You grow it and nurture it, and you do it gladly because you see the benefits and fruits of it. But you have to be passionate about it. If you're not willing to put in the time to getting it out of the ground, don't get into it."
A thing for equipment
While he spends most of his days in slacks and dress shirts, Noury is an equipment enthusiast. He'll buy a good used piece of equipment if he sees the need, and he's got an eye for auction bargains. But he's no collector. Everything he owns runs, has a role to play or is being restored by his mechanics.
"When Michel is purchasing a machine, he knows what he wants," says Denis Arguello at Kelly Tractor. "He's been doing it a long time. When he calls you for something, he knows what he's talking about."
Technical proficiency
Although small, Noury Construction has thrived by executing complex and logistically challenging jobs. Case in point was the structural excavation for the Panorama Towers in Miami. At 82 stories, it is the tallest structure in the city and required Noury to excavate 13 feet below grade for a 12-foot-thick concrete pad while working in between the pilings that had already been placed. In addition, the material was wet and had to be stockpiled on site to dry before it could be loaded into trucks and removed, all in a crowded urban environment.
Jobs like these have the area's general contractors singing Noury's praises. Geoff Bunnell, Moss Construction Managers, subcontracted to Noury on a $100 million job that had to be completed in just eight months even though the drawings were not finished. "When the work started, we had to give it to him in tiny pieces," says Bunnell. "Most other earthwork contractors would have told us to pound sand, but he stayed there all the way through it. It was a tough job, but they stuck with us and got it done. It was a successful project for us, and they said they made money on it, too. They are as good as it gets."
A love of construction seems to run in Noury's family. Even though he says he did not steer them in this direction, one of his daughters, Isabella, is studying engineering, and the other, Juliana, is studying to be an architect. Noury says women are the future of construction. "This is the way the business is going," he says.