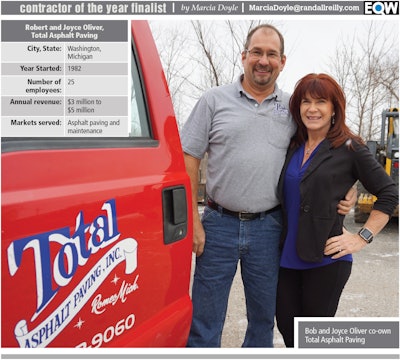 When Bob Oliver joined his brother-in-law's paving firm in 1997, it wasn't his first rodeo. He had 11 years of experience with another asphalt firm, including work as an asphalt paving foreman.
"It really helped Total Asphalt when Bob came over because the company had primarily worked on smaller driveways and parking lots and he had more experience with larger jobs," says Joyce Oliver, co-owner.
From the beginning, Bob's joining the firm was his brother-in-law Ben Daveluy's succession plan. It turned out to be a great plan.
Bob pitched in immediately, doing whatever needed to be done, including sales and equipment maintenance. Bob's expertise helped grow the company from $2 million to more than $4 million and from placing 10,000 tons of asphalt a year to 35,000 tons.
"The recession never really slowed us down," says Bob, who credits the firm's tight hold on financials and the company's good name as reasons why. "We powered right through it."
There was another reason that the company's course stayed steady, Joyce says: "Bob is a problem-solver. If there's an issue with anything, he will figure out how to make it right."
Sealcoating addition
In 2010, Bob and Joyce also started Fresh Look Sealcoating, and Joyce looked after that part of the business with the couple's younger son, Brian, 26. "Brian's been here from the start of Fresh Look and has done everything, including handling sales and running the crews," Joyce says.
"Fresh Look takes on the smaller work that most contractors don't want to be bothered with, but because of that, you can make money," Joyce adds, crediting Bob for recognizing the market potential for a sealcoating business. Having the two businesses put them in a great position, since each could refer clients to the other company when dealing with requests that were too big or too small to be in their wheelhouse.
Fresh Look has now been combined with Total Asphalt Paving and after a stint as a tire store sales manager, Bob and Joyce's other son, Rob, 28, has joined them and is now working in sales. "He's got a lot of good sales skills, so he's on the sales calls and involved in bidding," Bob says.
Joyce is in charge of running the combined office of Total Asphalt Paving and Fresh Look.
"We can now be that one company they can go to, even if they just need maintenance," Bob says, noting that the firm now does about 50 percent commercial paving and 50 percent driveways in the northern metro Detroit area.
Shared knowledge
Most of Total Asphalt Paving's crew has been with the company for 10 to 12 years.
Joyce says: "Our company is based on everybody knowing how to do pretty much everything, so the paving foreman may be wrenching at the end of the day."
And everyone takes responsibility for everyone else's safety. "They take safety seriously and call each other out on it," Bob says, "We don't play around here."
In addition to two asphalt pavers, Total Asphalt Paving has six dump trucks, four that can pull short double trailers, two stake trucks for hauling tools and six rollers. The company's fleet includes a variety of earthmoving equipment, including four skid steers, two dozers and a grader, backhoe and excavator. Those machines are tasked with ripping out old pavement and curbs, prepping the site to place new asphalt and loading stone and other materials. The company subs out any needed curb work.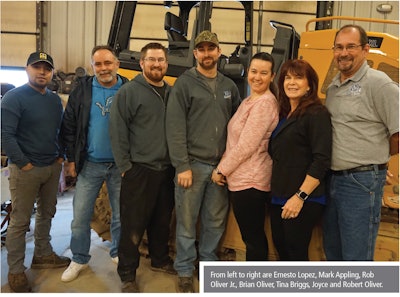 As with many contractors who deal with winter temperatures that curtail work, Total Asphalt Paving crews spend the downtime in the shop making sure the equipment is ready for the next paving season, which starts around mid-April.
And now, needing more office and shop space, Bob and Joyce are planning to move next year to a new 22-acre location down the road from their current one. The move will help them combine the two separate shops for Total Asphalt and Fresh Look that now exist and grow to an anticipated $5 million in annual volume within a few years.
Another part of their growth strategy is building up their website and social media presence, primarily as a marketing tool. The company uses an outside marketing firm to help with these efforts. "It has to be done, because people look up everything on their phone these days," Joyce says.
After each project, the company also sends a thank you card to the client, offering a small rebate for an online review.
Dedicated crews
Bob and Joyce take pride in the people on Total Asphalt and Fresh Look's crews. "Our foremen, Mark Appling, Ernesto Lopez and Nick Reeves, are really on top of making sure everything is flowing correctly," Bob says. "Our crews are dedicated. Our office staff is on the ball as well. The girls are efficient and friendly when it comes to details and customer service. Everyone takes pride in their job and maintains a great reputation for Total Asphalt and Fresh Look."
The couple's approach to meeting customer needs gets quick praise.
"I deal with hundreds of vendors, and there are few that I have such high regard for," says Loretta Adams with real estate development firm Adams Associates. "They are great in making sure they have experienced leadership onsite, and they have maintained their quality and safety values in both lean and boom times."
"They could teach other contractors how to research their markets, check out their competition and how to sustain a business," says Brian Borich with supplier Ajax Asphalt. "Bob's got a lot of experience, and he's been there and done that."
"They are top quality people, the best in their field," says Tom Weitor with Michigan Cat. "They know exactly what they are doing."
"We're just trying to build a business that looks out for our employees and looks out for our customers, and do what's right for them," Bob says. "We want to grow a nice business and go home at night and sleep and know you did the best you could."