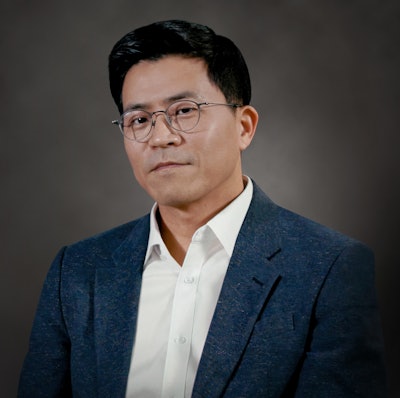 Doosan Infracore North America
Doosan Infracore North America has named Chris Jeong as the new CEO.
Jeong, a 17-year veteran of Doosan, will replace Edward Song, who was promoted to global sales head of Hyundai Doosan Infracore in Korea.
Prior to being named CEO for North America, Jeong was CEO for Doosan Infracore European Union. He began his career with the company in 2006 and has held positions including senior corporate strategy manager and vice president of sales and marketing for emerging markets. Jeong completed his MBA at Carnegie Mellon University.
"I'd like to acknowledge the many accomplishments of Doosan Infracore North America under the leadership of Mr. Edward Song," Jeong says. "Edward was instrumental in getting the new organization structured in 2018 as we recommitted the company to the heavy construction equipment industry in North America."
Jeong's first major assignment will be to oversee the Doosan exhibit at CONEXPO-CON/AGG 2023 in Las Vegas. Early last year, the company told Equipment World that it would announce a new name at the trade show, one that would tie in with its advancing technologies.
"I'm excited about our Doosan exhibit planned for the outdoor Festival Grounds," he adds. "We will be demonstrating our latest developments on Concept-X and autonomous equipment with live demonstrations throughout the day. We will have a full lineup of our current products as well as new additions to the lineup."
Song led Doosan Infracore North America since 2018. During his time as CEO, Doosan established two regional parts distribution centers in North America, opened the machine customization plant in Savannah, Georgia, and most recently introduced the new Doosan machine monitoring center at the corporate office in Suwanee, Georgia.
"It has been my pleasure serving you and your customers over the last five years, and I look forward to continuing to support the company and our products in my new role," Song says. "Much has transpired since 2018, and I'm pleased by the progress we've made working together to enhance the Doosan brand and grow the product line in North America."
Song says he is excited for his successor and what the future holds for Doosan Infracore North America and its dealers and customers.
"Chris will continue building on the strong foundation we've established, particularly the growth during the last five years," confirms Song. "His experience and insight will help us continue to move the company forward and expand our footprint in North America."