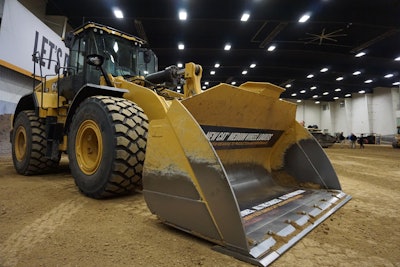 Equipment World
On the eve before ConExpo-Con/Agg (March 13), unionized Caterpillar workers unanimously voted to approve a new six-year contract with the construction and mining equipment manufacturer, according to reports from Reuters and the Associated Press. Negotiations started in early January, and a tentative agreement was reached in early March to avoid a strike. The terms of the contract are effective immediately.
The new contract, which covers 7,000 employees at plants in Central Illinois and a parts distribution center in York, Pennsylvania, included a $6,000 ratification bonus, a 19% increase in pay, 8% worth of lump-sum payments, larger night-shift premiums, and a bump in employer contributions to retirement plans.
"We are pleased to have reached what we believe to be a fair, reasonable and comprehensive agreement," Caterpillar said in a statement.
The Associated Press says members of the United Auto Workers union will get 7% pay raises immediately, plus 4% general wage increases in March of 2025, 2027 and 2028. Four percent lump-sum payments will be dispersed in March 2024 and in 2026.
By the end of the agreement, workers hired after 2005 will be on the same wage schedule as those hired before 2005, the company said. Under the previous contract, workers on the two-tier wage and benefits schedule were paid different rates for the same position.
Additionally, Caterpillar agreed not to shut down any union-represented plants for the life of the contract. The company closed its Aurora, Illinois, plant in 2017, moving production to other facilities and laying off hundreds of workers.
The agreement comes months after CNH Industrial, the manufacturer of Case and New Holland construction and agricultural machinery, ended a nine-month strike with its workers. Unionized workers at Deere & Company also held a five-week strike in 2021. According to UAW officials, the new CNH contract provided wage increases, shift premium increases, classification upgrades as well as other improvements. The Deere strike concluded with employees receiving 10% raises and improved retirement benefits.