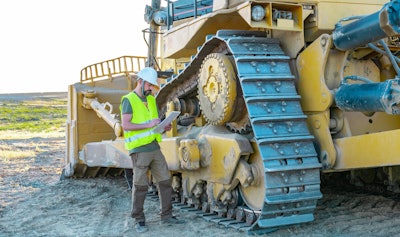 Getty Images
Editor's Note: This is Part One of a three-part series on the role fleet managers will play in achieving zero emissions for the construction industry.
At the evening meet-and-greet prior to the Association of Equipment Management Professionals' Sustainability Summit in Denver, Colorado, heavy equipment fleet managers were mostly in agreement about one thing.
They all had serious concerns about the viability of battery electric machines and didn't want to be railroaded into using them to meet arbitrary goals created by people outside the industry.
As it turns out, battery electric equipment and alternative fuels hardly came up during the event, held July 12-13 at Trimble's Westminster, Colorado headquarters. Rather, the fleet managers on the AEMP Sustainability Taskforce are working on a basic structure for developing a far more ambitious set of practices that will help any heavy construction company cut its carbon footprint by double digits by the end of this decade.
Most significantly, the near-term goal is to cut CO2 emissions using technology we have now and methodologies that will be familiar to anybody who manages a fleet of machines, big or small. Electric machines and different power sources will play a small role for some but will not be a major contributor to CO2 reduction until such time as all the problems and challenges have been worked out.
Unlike 20 years ago when the top-down federal imposition of diesel exhaust regulations (and ultimately Tier4 Final) sowed chaos and confusion throughout the industry, the AEMP-led push to net-zero is a bottom-up, industry wide collaboration. It is building consensus from a diverse range of global environmental organizations, OEMs, the Association of Equipment Manufacturers and companies involved in every aspect of the construction value chain.
A plan comes together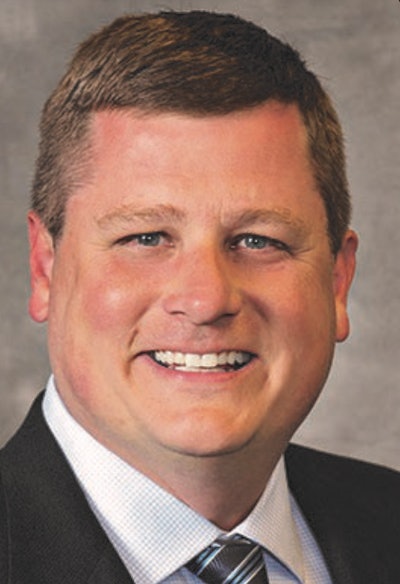 "Sustainability is the next disruptor for our industry," said Brett Faucett, director of operations at Brasfield & Gorrie and chair of the AEMP Sustainability Task Force. "We need to control our own destiny and not let other folks who know nothing about our business dictate what is required."
The task force had its first meeting in May 2021 and took a survey of AEMP members to see where they stood on the issue. That was followed that fall by a presentation at the group's Equipment Shift conference and meetings later with the Association of Equipment Manufacturers and the American Rental Association.
"We thought we were going to have to spend a lot of time playing catch up, said Faucett. "But we found that AEMP is fast becoming a leader at this point as it relates to sustainability, and we want to maintain that."
Particularly notable in the presentations on the first day of the summit were just how many of the world's biggest US-based construction and heavy equipment users have already pledged to cut carbon emissions and how many were well on their way towards those goals. The norm was CO2 reductions of 20 percent or more before 2030 and net zero by 2050—all mandated and supported from the top down.
Big dogs are all in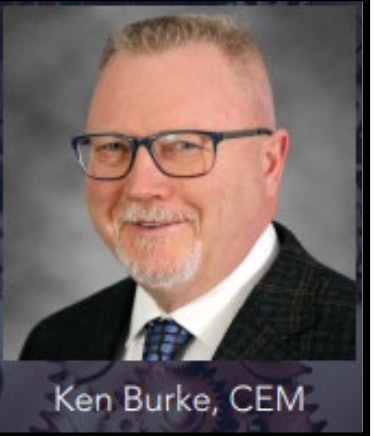 "From a 2019 baseline, our goal was to reduce CO2 15 percent by 2025, but we think we can get 30 percent by then," said Ken Burke, CEM, global equipment operations manager, Bechtel Equipment Operations, and sustainability taskforce founder and member. "Our decarbonization goals are to reduce our carbon footprint by 70 percent by 2030 and get to net zero by 2050."
Waste Management is aiming for a 42 percent reduction in CO2 by 2030, said Joann Barlow, CEM, manager—technology, corporate heavy equipment. "On the collection side of the house, we have garbage trucks using CNG and RNG. And they're looked at looking at piloting electric trucks and equipment, and monitoring CO2 emissions and idling.
Skanska's stated its goals to cut emissions 70 percent by 2030 and reach net-zero by 2045. Among other initiatives, Skanska requests environmental declarations from all the manufacturers who produce materials for its buildings and uses a scorecard from the US Green Building Council as a baseline for all projects.
Another company with an aggressive approach to sustainability is Stantec. This $4.5 billion design and engineering firm has instituted a comprehensive sustainability structure, linked executive pay to ESG (environmental and social governance) performance and put ESG-related KPIs (key performance indicators) in its Sustainability Report. The company also aligned itself with the United Nation's Sustainable Development Goals in regard to coastal resilience, ecosystem restoration, smart cities and urban places, and energy transitions.
Flip the script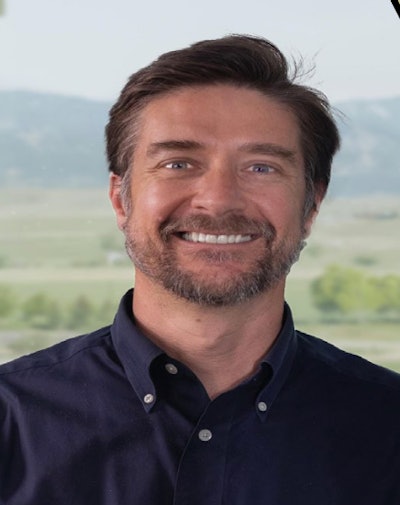 Construction is often faulted for being one of the biggest greenhouse gas emitters in the world, said Dietmar Grimm, vice president of corporate strategy & sustainability solutions at Trimble. But this sector has been driving carbon reductions since the beginning by being more productive and more efficient. As an example, Cummins engines have been steadily squeezing more power out of a gallon of fuel ever since the beginning, he said.
"We should embrace and celebrate that and use it as a way to drive the way things will be handled going forward," said Grimm. "The construction industry has an opportunity to flip the script."
Eventually, said Grimm, sustainability will touch every area of your company from capital planning and budgeting, design and survey, fabrication, construction management, site operations, as-built surveying and mapping, and lifecycle asset management.
New role for equipment managers
While emissions from heavy equipment might seem the most obvious target for CO2 reductions, AEMP and the more environmentally advanced construction companies are looking at the full construction value chain for reductions—not just equipment.
The Greenhouse Gas Protocol initiative created by the World Resources Institute breaks down emissions into three categories: Scope 1, Scope 2, and Scope 3. The WRI created these scopes as part of its Corporate Accounting Reporting Standard to provide a global framework and standards for measuring and managing GHG emissions across all industries.
Scope 1 focuses on direct emissions from things like heavy equipment.
Scope 2 emissions come from electricity for powering offices and buildings.
Scope 3 emissions are those created by subcontractors and material producers.
Heavy equipment fleet managers might only be directly responsible for emissions/GHG in Scope 1. But the fact that they already use telematics and sophisticated reporting and analytic systems to measure fuel burn, idle time and other machine metrics makes them the best equipped team in a construction company to develop reporting systems for Scope 2 and Scope 3.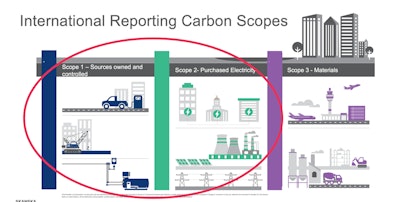 Fleet managers are also tied in with the rest of the company divisions—operations, finance, bidding and estimating more than any other division. And all this falls perfectly in line with the data-driven, analytical approach to fleet management that AEMP has been teaching its members for the better part of four decades.
Depending on how you look at it, this puts the fleet manager in the catbird seat, or the hot seat. But AEMP is determined to rise to the challenge just as they did with telematics 15 years ago. The organization was instrumental in developing and promoting the first brand agnostic telematics program, which eventually resulted in an internationally recognized (ISO 15143-3) standard and which is now offered or incorporated in almost every OEM telematics program today.
One step at a time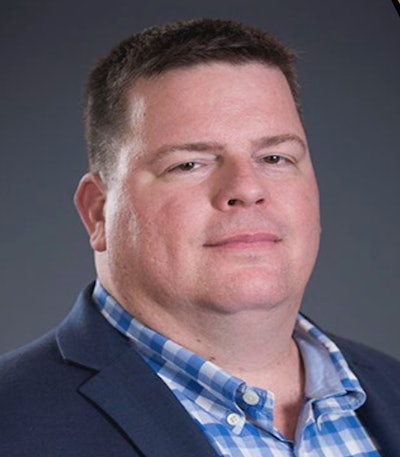 While the challenge might seem daunting, and a huge expansion of the equipment managers' role, Mike Clancy, partner and strategy practice lead at FMI, and moderator for many of the AEMP Sustainability Summit sessions, says it can be taken one step at a time.
"Sustainability is not a destination – it's a journey that we each take for ourselves," Clancy said. "You are not competing with your peers here – each organization is focused on self-improvement. We have hundreds of years of shared knowledge and experience in this room to draw upon. We brought some answers – but will jointly develop many more over the next day and a half."
The global value of sustainable improvements between now and 2030 is said to be worth $26 billion, said Clancy. And sustainability measures can boost profits as well as brand enhancements. Twenty-six states and several federal agencies are procuring at least a portion of their infrastructure construction with consideration for environmental values. And academic research shows that strategic sustainability has a positive impact on brand in infrastructure construction, he said.
Even if you take away all the environmental positives, it still makes sense, said Clancy. "A lean organization is a sustainable organization. And efficiencies can boost bottom line profits as much as 60 percent."
Three pillars
AEMP sees the foundation for environmental progress in construction based on three pillars: Planet, Process and People. We'll dive into each of these the next installments of this series.
The focus on people is an interesting twist from what too often is characterized as a technological problem. AEMP members are adamant that the construction industry and fleet management will need lots of new, young, highly educated and highly motivated people to turn these environmental goals into realities. They also emphasize that to attract talent at any level in the future, a company must have a strong sustainability message. Stay tuned.
For more information about upcoming AEMP Sustainability announcements and future educational sessions, go to https://www.aemp.org.