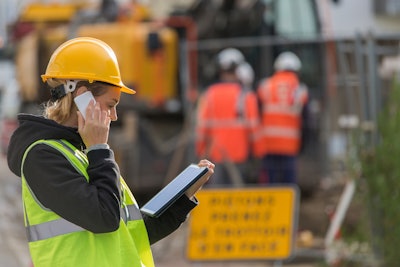 Getty Images
Editor's Note: This is Part Three of a three-part series on the role fleet managers will play in achieving zero emissions for the construction industry. Read Part One here and Part Two here.
One of the first PowerPoint slides shown at AEMP's Sustainability Summit in Denver, Colorado, last month cited two recent quotes from the news media:
"The construction industry remains horribly climate-unfriendly." – The Economist.
"Concrete: the most destructive material on earth." – The Guardian.
While those are British publications, they nevertheless represent how many people view this industry. And construction, when you consider all the machinery and materials that go into it, accounts for almost a third of greenhouse gases.
But what few in the media and the general public realize is that construction, as far back as the building of the pyramids, has always relied on process for success.
That gives construction a big head start in the race to reduce CO2 emissions. Even better news is that construction companies and fleets have worked hard at reducing fuel use and boosting equipment efficiency for the last 20 years. Most of the technology and thinking needed to further these environmental improvements already exist.
The task remaining is simply this: standardize the processes and measurements, record the results and work toward continual improvement.
Where to start
In a survey conducted before the summit hosted by the Association of Equipment Management Professionals, some 40 percent of attendees said they felt like they should be doing something, but they didn't know what or where to start, said Mike Clancy, partner and strategy practice lead at FMI, and moderator for many of the AEMP Sustainability Summit sessions.
And yet, a majority of survey respondents said they are taking steps to reduce fuel use, as indicated by the chart below: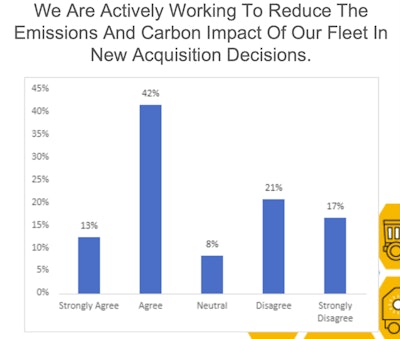 "This is where we can start; the things that we already are doing or know we should be doing. We just need to get a plan put together to do it," said Clancy. "If we break it down into smaller bites and chunks, every one of us can make some progress in this direction. This would include things like fleet utilization, engine idling, and good maintenance processes to start."
Equipment manager role
According to information provided by Mason Ford, CEM, director of sustainability and equipment services at Skanska USA Civil and a Sustainability Taskforce founder and member, the equipment manager has a huge role to play. This would include:
Upgrade vehicle and equipment fleet with electric and hybrid
Upgrade equipment with improved technology
Improvements in facility lighting and project office upgrades
Increase efficiencies in machinery selection and technologies
Lead and train
Design and monitor carbon budget
Provide realistic feedback to equipment manufacturers
Internally advocate for carbon targets in contracts
Train the organization on CO2 reduction
Today's technology
The technology developed in the last 10 years has already given contractors huge gains in heavy equipment productivity and efficiency. This would primarily include GPS/GNSS machine automation and telematics.
According to Dietmar Grimm, VP of corporate strategy and sustainability solutions at Trimble, the next step is to start managing data in the cloud, including a multitude of technology trends that will help enable better processes such as:
Electronic billing, evolving from paper receipts to connected data.
API-based ERPs. Get the utility companies to write an API for your energy usage that goes directly into your accounting software.
Connected site management. All parties get the same information and changes in real time from the cloud, eliminating delays and miscues on site.
The ultimate goal here is to have a connected, accessible workflow from the architects and engineers (design) to contractors (build) to asset owners and clients (operation of facilities) and working on the project together in the cloud, said Grimm.
Stantec's process
Using information provided by Stantec, a sustainable engineering, architecture, and environmental consulting company, Grimm showed how this company has measured, managed and analyzed its carbon footprint since 2010. It reports and validates greenhouse gas emissions for all three scopes* and has a validated science-based target (SBT) it is achieving. The company is geographically diversified in three regional operating units namely Canada, the United States and Global, offering similar services across all regions.
*As mentioned in our first article in this series, the scopes include direct energy sources, indirect energy sources and other emissions sources. Think of it as Scope 1: jobsite emissions, Scope 2: office and vehicle emissions and Scope 3: business travel, commuting.
In Stantec's process, jobsite emissions from equipment are relatively easy to calculate with modern telematics. With mostly leased office spaces, utility costs can be more complicated to measure, so the company collects usage data from landlords to reduce the need to extrapolate.
For purchased goods and services, business travel, fleet, drill rigs and leased residential units, Stantec engages with vendors for relevant usage reports and uses internationally recognized extrapolation figures. For employee commuting and office waste, emissions are based on employee counts and industry-recognized intensity factors.
Using machine automation to reduce fuel consumption
Mike Granruth, business development director at Trimble, gave a presentation at the AEMP Sustainability Summit that showed just how much fuel could be saved by using GPS/GNSS machine automation.
With a team at Trimble, Granruth took 16 operators with varied levels of experience. Each operator was instructed to dig three trenches: one conventional (manual), one with GPS/GNSS guidance (indicate only) and one with fully automatic GPS/GNSS control.
All the operators in the test achieved significant time savings as the chart below shows.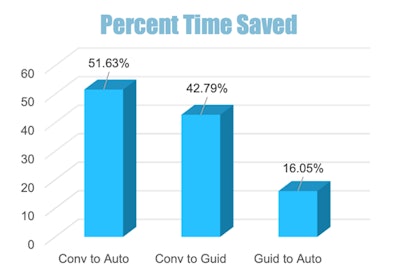 Even more interesting was how all much time was saved by the various skill levels. In the chart below N=novice, I=intermediate and E=expert skill level. Not surprising the novice operators gained the most efficiency but even the experts when switched from conventional (manual) to automatics increased their efficiency by a whopping 46.05 percent.

The takeaway from Granruth's experiment is that more productive machines help reduce CO2 emissions by burning less fuel to achieve the same results. There is also a savings in embodied carbon by reducing the number of machines to do the job and extending the life of the machines due to the reduced wear and tear.
The Planet
Nobody doubts that the environment is a big topic in the news today, maybe the biggest. And governments around the world are putting enormous amounts of money into addressing the problem. Here in the US we have the Infrastructure Investment and Jobs Act with a total spend of $1.2 trillion. And the Inflation Reduction Act of 2022 allocates $391 billion for energy security and climate change plus $270 billion in tax incentives.
Globally there are additional governing bodies and resources including:
The cost of doing nothing
People will argue for years about climate change and how much is tolerable. One thing is for certain however, is that wasteful processes in construction have no place on a planet with limited resources.
"We know that the inefficiencies in construction cost us globally over $1.6 trillion per year," said Rob Painter, CEO of Trimble. "That's the size of the GDP of Canada. The data tells us that 80 percent of projects are late, and 40 percent are over budget. And wasted effort is the number one cause of inefficiency in our industry. And the good news is that we know that productivity is generated by using technologies such as machine control and guidance," he said.
Bechtel Equipment Operations started working on sustainability about three years ago, said Ken Burke, global equipment operations manager. "Brendan Bechtel was the chairman of the board and said this was going to be his legacy to the company and the industry.
"We're a 120-year-old company and Riley Bechtel, Brendan's father, started out with safety as his legacy," said Burke. "Sustainability is going to be Brendan's. We are going to be net zero by 2050. And we're going to do it the right way. We're not going to buy our way into it; we're not going to fake our way into it. That's hard and there's a lot of still to do."