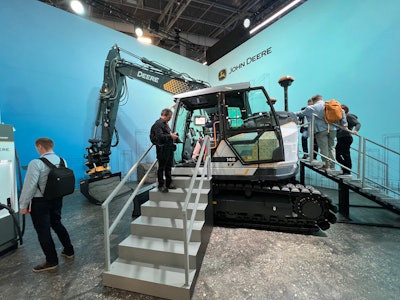 Dane Cotten
John Deere has announced that it plans to produce Kreisel battery packs and chargers in Kernersville, North Carolina, following the construction of a new $69.6 million facility.
The facility will be the North American headquarters for John Deere Electric Powertrain LLC, a joint venture between Deere and Kreisel Electric. Deere acquired majority ownership of Kreisel Electric, an Austrian-based developer of immersion-cooled, high-density battery technology, in 2022.
According to the Winston-Salem Journal, the site is a vacant 14.31-acre lot at 900 W. Mountain St. adjacent to Deere's existing hydraulic excavator plant.
Deere unveiled its new 145 X-Tier electric excavator powered by a Keisel battery earlier this year at CES in Las Vegas. The company has been testing a battery-electric backhoe, the 310 X-Tier, since 2021.
At the new 115,000-square-foot facility, Deere will manufacturer battery packs for high performance and large, off-highway equipment applications. The factory will also produce Kreisel's complementary CHIMERO charger technology for e-mobility, stationary systems and Level 3 charging solutions.
Deere says the new facility will create 50 full-time jobs, including assemblers, material handlers, packagers, and quality inspectors.
"As the demand for electric solutions continues to increase, this strategic investment in growing our production capacity will help strengthen our position as an international battery technology leader. Within the evolving off-highway equipment market, we are prioritizing the development of a robust charging ecosystem and battery portfolio that can support and sustain the long-term adoption of electrification across a wide variety of applications," said Pierre Guyot, senior vice president of John Deere Power Systems and chairman of Kreisel Electric.
The project is being supported by the One North Carolina Fund. Deere will receive a $100,000 performance-based grant if it meets all job creation and capital investment targets. In addition to the North Carolina Department of Commerce and Economic Development Partnership of North Carolina, other key partners in this project include the North Carolina General Assembly, North Carolina Community College System, Forsyth Tech Community College, Forsyth County, Town of Kernersville, Greater Winston-Salem, Inc., Whitaker Park Development Authority and Duke Energy.
"We are excited to welcome John Deere's newest venture to America's best state for business," said Governor Cooper. "North Carolina's leadership in manufacturing, innovation and clean transportation is creating great jobs from global manufacturers like this. With our shared values on sustainability, we look forward to creating a cleaner future together."