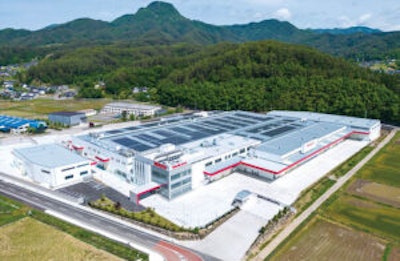 Takeuchi
Takeuchi will get a "massive increase" in excavator production capacity with the opening of its new manufacturing facility in Aoki, located in the Nagano province of Japan.
According to Takeuchi, the new 538,000-square-foot facility with 340,000 square feet of floor space will boost production by 35% by the spring of 2024 and by 50% by the winter of 2024. Takeuchi will manufacture its full range of 4- to 9-metric-ton "midi" excavators at the facility.
This increased productivity will help Takeuchi meet the growing worldwide demand for its excavators and tracked loaders. Takeuchi currently manufactures its compact track loaders in Moore, S.C., and Japan, with the S.C. facility set to reach full production capacity by the end of the year.
To support the growth in machine sales, Takeuchi says dedicated after-sales parts centers have already opened.
ESG and sustainability are at the forefront of Takeuchi's planning to 2030. The new facility operates with 100% renewable energy and solar power. The company has also introduced ESG and sustainability campaigns, including staff training and development, emission reduction initiatives, occupational health and safety, and diversity and inclusion initiatives.
Takeuchi says it has ambitious plans for new electric and battery-powered machines up to 6-metric-ton weight class, along with the continued development of low-greenhouse-gas technology on existing diesel-powered machines.