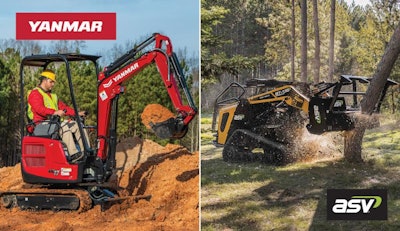 Yanmar Compact Equipment North America
Yanmar Group and ASV Holdings Inc. have finalized their merger, creating a single legal entity, Yanmar Compact Equipment North America (YCENA).
The news comes three years after Yanmar acquired ASV. ASV stockholders approved the all-cash $70.7 million purchase by Yanmar America in September 2019. The deal was first announced in June 2019.
"This is a huge step for us, our dealers and our customers," said Tate Johnson, president of YCENA. "The alignment of the two brands allows us to focus on expansion, new products and overall strategic growth in North America while finding new ways to serve our customers."
The organizations have operated as YCENA from a commercial standpoint since July 2020. The alignment allows for "a better, more capable and dedicated compact equipment entity focused on leadership in the North American compact equipment market," the company says.
The Yanmar CE and ASV brands will remain separate under the entity with each brand retaining its product lines and dealer networks. Currently, Yanmar Compact Equipment offers mini excavators, compact wheel loaders and tracked carriers with a focus on commercial construction, residential construction, utility and rental markets. ASV offers compact track loaders and skid steers targeted toward the landscaping and forestry markets.
YCENA says the merger creates opportunities to offer a wider range of compact equipment, as well as a single way for dealers to do business with the company.
In January 2023, YCENA announced plans for a 32,000-square-foot expansion to its Grand Rapids, Minnesota, facility. The project sets the stage for future capacity increases with company officials projecting the addition of hundreds of full-time positions over the next five years.