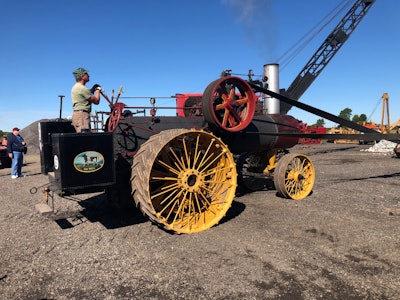 Equipment World
Resembling a locomotive engine, thin black smoke billows out of the stack of the black and red 1918 Russell steam tractor with its big yellow spoke wheels.
With a steady rumble, its traction engine powers a belt that propels an Allis-Chalmers Superior-McCully gyratory crusher from the 1930s. "The Boss" logo on the back side of the tractor – a bull standing proudly on a rock – symbolizes what Russell & Company at the time called, "The strongest farm traction engine built."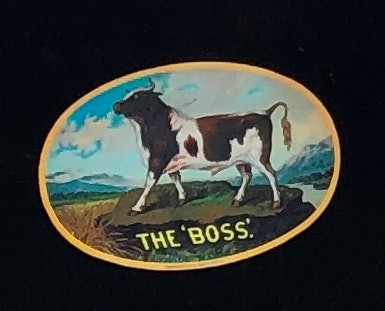 At the helm stands Jim Lashaway who bought the old tractor in 2006, one of four he owns since he began collecting them in 1998. With the 36th Annual Historical Construction Equipment Association show in his hometown of Bowling Green, Ohio, last September, Lashaway decided to haul the old steam engine out to let attendees get a look at the early 20th century machinery that was so important to farmers around the country.
It's also a testament to a power source that has since fallen out of use for construction and farm equipment but was no less important in its day than diesel is today.
"Steam power is probably the most awesome power there is," says Lashaway, while taking a break from the crushing operation. "It's very powerful. It injects steam on both ends of the cylinder. So it's got a power stroke in both directions unlike an internal combustion engine, which only fires at the top and then it has to go down and come back up to get another power stroke."
(To see how he starts the tractor and watch it in action, be sure to check out the video at the end of this story.)
Steam runs in the family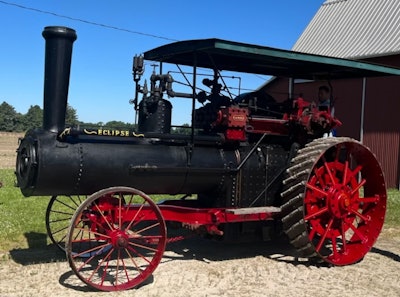 Lashaway is part of a branch on a large family tree in the Bowling Green area.
"My family has been in this area since 1850s," he says. "When they drained the Black Swamp and started farming here, my family came here and settled."
He got interested in steam tractors in the 1970s through his grandfather Elmer Morlock, who taught him how to start and run the engines when he was 10 years old. Morlock was a machinist. His uncle Bill Morlock used a 1916 Frick 16-horsepower double-cylinder steam tractor, which he bought in the 1950s, for a threshing operation.
"They would go out around the neighborhood and thresh everybody's grain for them," Lashaway says. "When he passed, my grandfather bought the engine, and we still have that engine in our family."
They still take the old tractor to shows, demonstrating a sawmill operation and plowing with it.
"Peach of them all"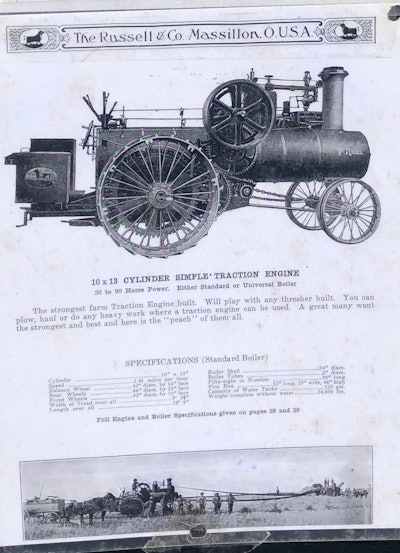 Lashaway, now a retired mechanical engineer, came across the 1918 Russell in 2006. His network of fellow traction engine enthusiasts helped him find the old tractor, owned by a steam engine collector in Oklahoma. "That's a lot of the fun, the hunt to find this equipment. Before the internet and all that stuff, we all had to go visit people and write letters and word-of-mouth."
The old tractor was in decent shape, but it needed some work on the boiler, the engine and lots of odds and ends. It took many hours of his time.
Russell & Company started building steam traction engines in Massillon, Ohio, in 1878 and was one of the largest producers of steam traction engines by 1884. The company began to decline in 1912 and merged with Griscom-Spencer Company of New Jersey. Lashaway's tractor is known as a 10-inch by 13-inch Cylinder Simple Traction Engine with universal boiler. It delivers 30 horsepower for traction work like pulling plows and graders and 90 horsepower for belt work, such as threshing or on the rock crushing demonstration.
Lashaway notes that power ratings in the steam era were much diffrerent than today.
"This is rated 30 horsepower in the traction, but that was the same as what 30 workhorses would pull," he explains. "This probably compares to a 200-horsepower tractor. ... I can pull a lot."
"Will play with any thresher built," reads the steam tractor's original catalogue ad. "You can plow, haul or do any heavy work where a traction engine can be used. A great many want the strongest and best and here is the 'peach' of them all."
The mighty steam engine
Though steam is a powerful source of energy, its engine also requires a lengthy start time, about an hour.
The water in the boiler is heated by a coal fire. The firebox is completely suspended in water, Lashaway says. As the water boils, steam drops down into a valve and is injected on both ends of the cylinder for the power stroke.
"And the nice thing about steam is, it's like hydraulics where you have maximum torque at zero rpm," he says. "You can start at a really heavy load just like hydraulics."
Later in the day, Lashaway takes the tractor out on the parade grounds. It is an impressive sight, with its yellow rear wheels standing 5.5 feet high, smoke emitting from the front like a locomotive engine, red flywheel turning and cylinder pumping. It slowly moves up the dirt track, at a top speed of about 3 mph. The tractor is 18 feet 9 inches long and 9 feet 5 inches wide. It weighs about 32,000 pounds, Lashaway says.
He especially enjoys showing the tractor to the public and being among his peers in the historical equipment world.
"The biggest thing that I like about them are the people that do it," he says of the steam tractors. "It's the people and the interest and the passion that they have for the old equipment."
He notes that hauling out the tractor is no easy feat, requiring a lowboy trailer and some help with the loading and unloading.
"I do like the equipment, but if it wasn't for the people, it wouldn't be that interesting," he says. "And the camaraderie – everybody's willing to help everybody else."