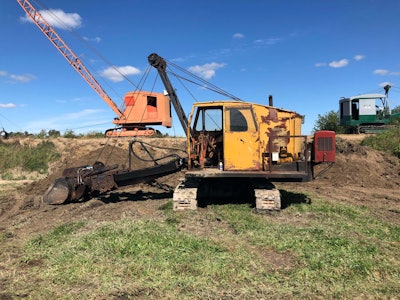 Equipment World
Historical construction equipment aficionados were doing double-takes when walking past George Marsh's 1956 Lorain TL-25 crawler crane.
It wasn't the 66-year-old crane itself, which is not so rare, but the attachment on the front of it that was catching attention at September's Historical Construction Equipment Association's annual convention in Bowling Green, Ohio.
(To watch George operate the Scoop Shovel, check out the video at the end of this story.)
The Scoop Shovel, as it was called, was made by the Thew Shovel Company, which built Lorain cranes. And as far as George or anyone else at the show was aware, it's the only one known left to exist.
"I talked to a lot of people out at HCEA that knew a whole hell of a lot more than me, and none of them had ever seen one before," he says.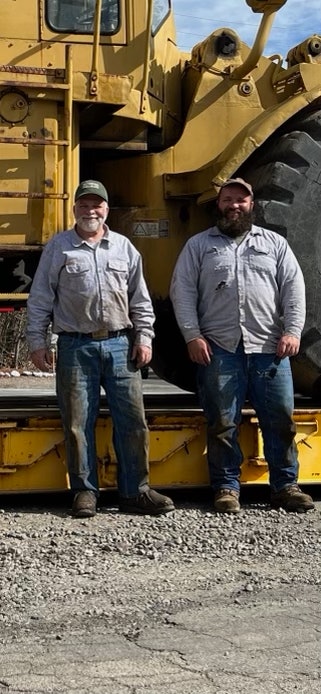 George and his father, Alan Marsh, first caught a glimpse of the Scoop Shovel about a year ago on Facebook, where it was being auctioned.
Alan Marsh operated friction cranes his entire career, performing dragline and shovel work starting in 1975. He operated a Bucyrus-Erie 22B, and in 1983, he bought a 110-ton American 975 crane, which he and his son keep running today. George is also a professional dragline operator. Between them, they have collected 100 or so vintage machines, including various friction cranes, crawler tractors and antique trucks.
So when they saw the Scoop Shovel on Facebook, they knew they had found something special.
They placed their bid but lost the auction. Later, though, they caught up with the high bidder in Zanesville, Ohio, where the crane and shovel were located. They bought it from him and brought it back home to Temple, New Hampshire, where they restored it to running condition.
"It hadn't run in a while when we got it," George says.
At the HCEA show, George demonstrated the Scoop Shovel by filling and dumping shovelfuls from a dirt pile. The boom and bucket moved forward with pulleys and cables, sliding horizontally into the pile of dirt. After the bucket was filled, the boom would swing out. The bucket dumped and reset using the hydraulics, which were added later. The pulleys and cables retracted the boom as the shovel readied to scoop another load.
The Scoop Shovel still needs some work to run smoother, George says. And since the show, hydraulic lines have sprung leaks, which he plans to fix. "I need to get some more things freed up on it. It's still kind of stiff."
He might paint it, but then again, that's not as important.
"My thing is, I like my stuff to run 100%. Paint's nice. But I'd rather be able to get in it and use it."
Hardly anything is known about the Scoop Shovel, such as when it was built and how many were made. The seller knew the owner, who had recently passed away and was a coal stripper. George suspects it was used in coal mines in Ohio, possibly for loading shallow cuts of coal into haulers.
Somewhere along the line, hydraulics was added by a previous owner for the dumping mechanism. As a big fan of friction cranes, Marsh believes that has made it a slower machine. He's not exactly sure how it originally worked other than it likely had a trip bucket, in which the operator would pull the dipper trip to dump materials and then reset it.
"The way you've got to run it now is that you're pretty much always waiting for the bucket to either dump or to come back, because hydraulics is just slow on it," Marsh says.
Operating the shovel is also a little strange. It extends out to about 20 feet high and is designed for higher capacity shoveling and unloading than typical cable shovels. The shovel's capacity is about 2 cubic yards, which is typically found on a much larger machine. A standard shovel for a crane that size would have a ¾-yard capacity or so.
The Scoop Shovel doesn't have the digging power of a standard shovel. But it can work in spaces with low overhead, such as coal mines. Four levers are used to control the shoveling process.
"It's tricky, because the normal cable shovel, you can really get behind your pile," Marsh explains. "This thing, not so much. You can't boom that down and dig a trench with it, for example."
Despite its quirky design, Marsh can see where it had its place. "If you're working in loose material loading trucks, I'm sure it's great," he says. "It's way faster. You're moving more material than you are with a regular shovel."
Marsh has found a Lorain sales brochure from the 1950s, which shows the Scoop Shovel. Many of the photos show it being used in mining operations. It appears to play a similar role as a wheel loader does today.
"They put that attachment in like every operator's book that they put out, as an option," he says. "But I haven't really been able to find anything with more specific details about that particular attachment.
"I have no idea when they started building them. I have no idea how many they built.
"But I know it wasn't a lot, and not for a long time."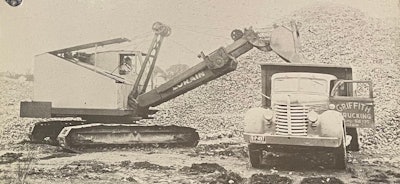 Regardless of its details and history, the Scoop Shovel ranks among his favorite finds, especially since there appears to be no others around anymore.
He enjoys running and working on the old equipment and showing it. He goes to six or eight vintage equipment shows a year, where he and his father bring out some of their favorite pieces.
"Taking the stuff to shows so that people can enjoy it is really what it's all about for me," he says. "It's rewarding to get stuff going again and letting people see it and enjoy it."
Watch the Scoop Shovel in action
Check out George operating the Scoop Shovel at the HCEA show in September in the video below:
More photos
Here are some photos from George and Alan Marsh's collection of vintage equipment: