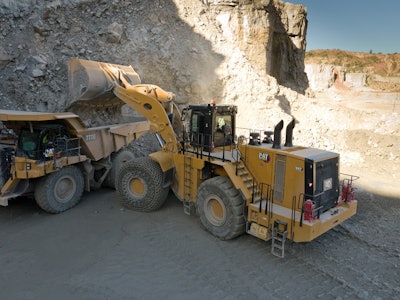 Caterpillar
Caterpillar saw a 12% increase in sales and revenues during the first quarter, growing from $10.6 billion last year to $11.9 billion in 2021. Looking at just the company's construction industries segment, global sales grew by 27%.
Cat says the increase was "due to higher sales volume driven by higher end-user demand and the impact from changes in dealer inventories," which increased by $700 million this year compared to $100 million during Q1 2020. Left unsaid: Q1 2020 results also reflected the start of the global Covid-19 pandemic.
Worldwide sales for the quarter were higher across all three of Cat's primary segments: construction industries (up 27%), resource industries (up 6%) and energy and transportation (up 4%).
North American construction industries sales, however, grew only 2% during the quarter, while there were big increases in Asia/Pacific (up 72%), Latin America (48%) and Europe/Africa/Middle East (22%). Cat says higher end-user demand – driven primarily by residential construction – was partially offset by the impact from changes in dealer inventories and unfavorable price realization.
Cat Financial Products revenues decreased by 9% in North America, compared to Q1 2020. At the end of Q1 2021, past dues were 2.9% globally compared with 4.13% during the first quarter of 2020.
"I'm proud of our global team's strong performance as they continue to serve our customers," says Jim Umpleby, Caterpillar chairman and CEO. "We're encouraged by improving conditions in our end markets and are proactively managing supply chain risks. Our dedicated team continues to execute our strategy for long-term profitable growth."