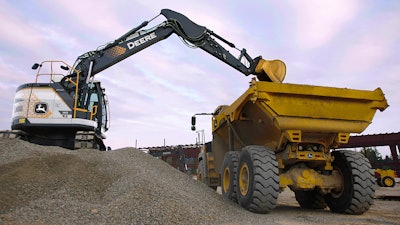 John Deere
John Deere will showcase its latest technology and alternative-power offerings as the company demonstrates its efforts to increase its electric presence in the construction space around the world.
"At John Deere, we continue to provide customers with groundbreaking, smart technologies aimed to improve user experience in the present and yield proven results in the future," said Andrew Kahler, senior group product manager of precision construction, John Deere Construction & Forestry.
Several new technologies to increase performance and safety such as SmartDetect and SmartWeigh, as well as expansion of John Deere's electric and hybrid-electric fleet options will be showcased at ConExpo-Con/Agg 2023.
You can see more of what OEMs have in store for ConExpo 2023 on our show preview page by clicking here.
By 2026, John Deere intends to have a variety of electric construction equipment solutions, including 20-plus electric and hybrid- models. Nine electric or hybrid-electric machines will be unveiled at ConExpo.
John Deere's electrification/hybrid journey began in 2013 with the introduction of the 644K Hybrid wheel loader. That loader and the 944K Hybrid have each been rebranded to the 644 X-Tier E-Drive and 944 X-Tier E-Drive to align with the company's performance tiering strategy. Under its new naming strategy that debuted in 2021, X-Tier represents the company's most advanced models.
Signifying their performance and technology tier, models are designated as a G, P, or X. G-Tier are touted as affordable alternatives and P-Tier includes advanced features.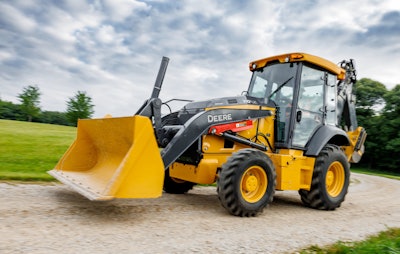 The company's hybrid E-Drive models feature an electrified drivetrain with an engine as the primary power source. According to John Deere, E-Drive increases fuel economy, powertrain component life and pushing power than traditional models.
At ConExpo, the 744 X-Tier E-Drive wheel loader will make its debut. It features an electric variable transmission, which provides increased fuel efficiency and better performance, the company says.
Also, the company is displaying the upgrade to the 850L dozer with the 850 X-Tier model. The less complex drivetrain powers each track with an electric motor to maintain the maneuverability and control of a traditional hydrostatic John Deere dozer.
Continuing its electrification journey, John Deere will offer E-Power machines utilizing battery solutions from Kreisel Electric.
Two years ago, the company tested and showcased the 310 X-Tier E-Power electric backhoe. This year, the 310 X-Tier E-Power backhoe will enter the next phase of development with improvements drawn from customer feedback.
In addition, the 145 X-Tier E-Power excavator concept, showcased at CES 2023, will also be on display. No specifications have been made available about the excavator, although the "145" designation suggests a mid-sized excavator and it carries the E-Power label as a battery-powered unit.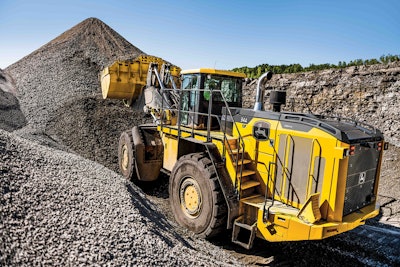 Making its debut at ConExpo, the battery-electric 244 X-Tier compact wheel loader is designed for customers looking to benefit from an E-Power machine in a variety of material handling applications.
The company also is developing electrification infrastructure solutions to address the charging challenges. According to John Deere, its electrification ecosystem will offer an array of solutions to address charging, data and connectivity, machine support and financial services. The charging ecosystem will include overnight and fast charging. All John Deere machines and charging stations will use common automotive-style charging connections, helping to simplify the recharge process for electric equipment.
In addition, John Deere is developing new features, such as an Operations Center, specific to battery-electric equipment to help customers monitor usage remotely and manage work while charging their equipment.
Seeing it all
According to John Deere, the next generation of production-class and utility-class loaders are designed to improve operator visibility and awareness. Select models can be equipped with new vision and object detection technology.
Object Detection technology is paired with a high-resolution camera and a dedicated display. John Deere says vehicle trajectory logic technology overlays the projected vehicle reverse path to illustrate where the vehicle will move next.
The company says its Advanced Vision System is an industry first. The system integrates two digital cameras on the side-view mirror frames and gives an integrated view of all cameras for wider views and enhanced clarity.
SmartDetect combines cameras and machine learning to help give operators a better view of their surroundings. The system alerts operators when an object enters the machine's projected travel path and provides unique detection alerts for people in the camera's entire field of view. With SmartDetect Assist, the machines will automatically stop before encountering a person.
More efficient = more productive
Another technology solution at the show will be SmartWeigh, now available on the full lineup of P- and X-Tier utility wheel loaders and soon available on the production-size P-Tier models.
This payload weighing system reportedly delivers increased accuracy, dynamic weighing capabilities and ease of calibration when loading trucks. The bucket weighing technology helps reduce boom raising and lowering. Bucket capture height can be set anywhere between 15%-90% of boom height and can be captured at any boom speed. According to the company, SmartWeigh does not require calibration with a known weight, so customers can calibrate the system themselves. Also, the system integrates with the payload weighing data in JDLink telematics.
John Deere says the Auto Level technology feature offers near-perfect parallelism throughout the entire raise and lower cycle, plus or minus 2 degrees for new P-Tier and X-Tier wheel loaders.
Visitors at the show also can experience the full portfolio of John Deere's Grade Management solutions: EZ Grade, 2D Slope Control, 2D laser or 3D SmartGrade.
EZ Grade technology is now standard on John Deere's small dozers, with EH controls to aid operators in smooth finish passes by making small blade corrections automatically. The technology is also available on the SmartGrade 333 P-Tier compact track loaders. Also, 2D slope control technology is available for the full line of small dozers.