On display at Bomag's Central Hall ConExpo booth C-30316 will be its new 600-horsepower-class BM 2200/60 cold planer.
(You can see more of what OEMs have in store for ConExpo 2020 in our show preview page by clicking here.)
Offering an 86.3-inch cutting width, the BM 2200/60 features Bomag's BMS 15 milling tooth holder system, designed for enhanced milling productivity, and extending service life by up to 30 percent over other cutting systems, according to the company.
The tapered tooth retainer claw has a low-resistance profile that delivers more cutting power with less wear, Bomag says. The company adds that the quick-change cutting tool design reduces the time required to change a full set of teeth by up to 75 percent over conventional systems.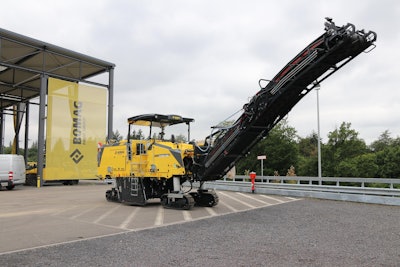 Conveyor roller placement improves material flow for more efficient removal of millings from the cutting chamber. A new integrated dust extraction system helps to improve operator working environment.
An 11.8-inch track width and 67-inch track length provide traction when milling at depths reaching 12.6 inches.