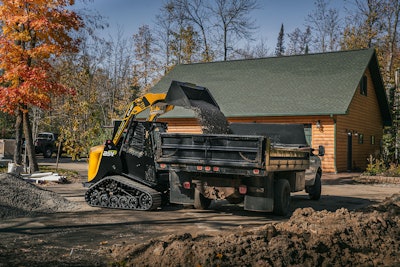 ASV's new mid-size RT-50 Posi-Track loader will be unveiled at the ARA Show (booth 3077) and ConExpo (booth F100801 in Festival Hall).
The RT-50, which can be towed behind a half-ton pickup, has a 1,400-pound rated operating capacity and weighs 5,350 pounds. Powered by a 50-horsepower engine, the unit has 3,000 psi of auxiliary hydraulic pressure with a 13.3 gpm flow. The hydraulic system features large line sizes, hydraulic coolers and direct-drive pumps, all designed to transfer more more flow and pressure directly to the attachment.
(You can see more of what OEMs have in store for ConExpo 2020 in our show preview page by clicking here.)
A 109.6-inch pin height allows operators use the machine to load landscape and small dump trucks. The 58.5-inch wide machine has a 7.1 mph top speed.
The unit's Posi-Track undercarriage uses 15-inch wide tracks and even weight distribution through a number of contact points. As a result, the 3.1-psi ground pressure machine minimizes the risk of turf damage, ASV says. It also gives a smoother ride, increasing operator comfort.
A large rear-tilting hood provides access to all maintenance points, including drain plugs , Zerk fittings and spin-on, frame-mounted filters. A direct-drive pump eliminates the belt servicing that comes with belt-driven pumps, says the company.
The company recently announced a two-year/2,000-hour warranty on its loaders, and also offers a no-derailment guarantee.