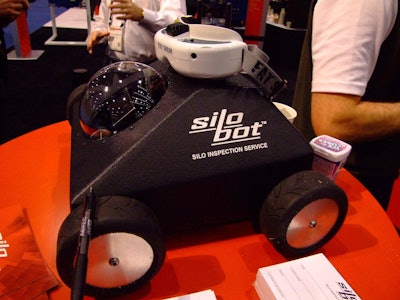 Astec has introduced a new asphalt silo inspection tool designed to minimize danger to personnel inspecting the silo, provide precise thickness mapping, and cut back silo downtime to a fraction of what is traditionally needed.
Called Silobot, the machine was on display at ConExpo 2017 in Las Vegas.
The old way to inspect a silo was to build scaffolding and send a person inside, which presented not only potential fall dangers, but confined space issues as well.
"The silos have 6 inches of insulation and then a metal wrap around the insulation," says Larry Johnston, vice president of parts sales. "From the outside you can't tell what's going on inside. So the only real way to do it right now is to build scaffolding, go up in it, build more scaffolding and test it, and it's a day and a half of setting up to get it inspected. So you're three days down for one silo inspection."
With the Silobot, an Astec technician can be in and out in two hours.
How it works
The Silobot has four wheels with 100 pounds of magnetic thrust each. It's fitted with a 4K GoPro camera and a technician guides it remotely wearing a set of head-tracking goggles.
The operator takes pictures and video and measures the thickness of the silo walls using an ultrasonic thickness gauge mounted on the bottom of the Silobot. "Wherever the operator stops, he can actually lower the gauge, squirt out oil lubricant out so it will get a good seal, and then take a measurement," Johnston says.
Each wheel also has an encoder, so it's talking to a computer program as it is traveling inside the silo, and in turn is mapping the silo as it moves.
"Wherever it stops we know the exact point of where it's measuring thicknesses," Johnston explains. "When we're done with the inspection, we'll send the data with the video and pictures back to our engineering department. They'll do an analysis and do an inspection report, send it back to the customer with a 3D image of the inside of their silo along with the video and pictures."
This version of the Silobot, created by Astec controls engineer Chuck Simpson, is version four, as preliminary work on the system began four years ago.
"He designed computer programs for us and on the side he built robots," Johnson says. "So we asked him to do both for us."
ConExpo reaction
The system was a hit, Johnston says, as he received 104 requests for inspections on the first day of ConExpo.
The cost of the service is $2,250 per silo, with an additional $750 per day charge. "So if he does four silos in a day, it's $2,250 a silo and then one $750 charge," Johnston explains.
He adds that he's in the process of hiring an additional technician for inspections, which will be schedule by state to reach as many customers as possible in a confined geographic region.
"We're going hire a guy with a bucket truck, so he'll go around in the truck, raise himself up and set the Silobot in the silo," he adds. "All we're going to ask customers do is to have the silo cooled down, have the heat off of it and have the gates locked back—lock out-tag out."