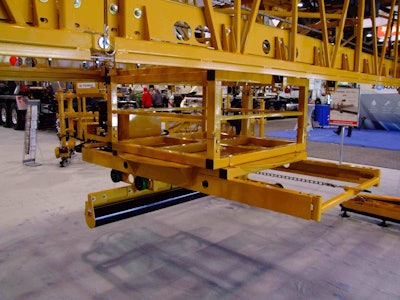 Terex Bid-Well has launched a sidewalk paver attachment designed to be mounted to any Terex Bid-Well 2450, 3600 and 4800 roller paver and can be operated by one worker. The company made the announcement during the 2017 World of Concrete show in Las Vegas.
The unit is self-powered by a 14-horsepower engine and features a hydraulically driven 6-inch diameter roller that spins at variable speeds up to 200 rpm. The roller tube is customizable from 4 feet to 12 feet to meet jobsite requirements.
Being self-powered, the company says the new paver can be attached ready to use faster than pavers driven by hydraulic power, as it can be ready to pave as soon as it attaches to the frame of a roller paver.
Because it offers a three-tier frame hanging system, it can be positioned freely on the roller paver's frame to offer the operator more flexibility in setup, such as at a skew angle.
The attachment is operated by two control levers, with one powering the unit on and off and controlling rolling speed and the other controlling revere and forward movement.