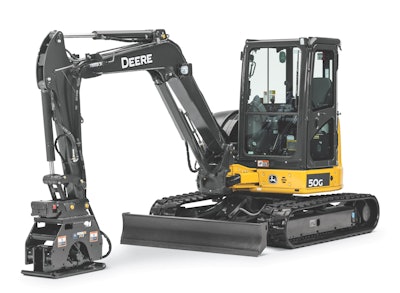 John Deere's new plate compactor attachments enable compact excavators and backhoes to compact soil at high vibratory and impulse forces.
The PC4, PC7 and PC10 each deliver 2,000 revolutions per minute at regulated flow and are geared toward trench, slope and excavation compaction. The compactors are designed with a large eccentric rotating weight positioned farther from the shaft, increasing impulse forces to 4,000 pounds on the PC4, 6,400 pounds on the PC7, and 8,000 pounds on the PC10. The weight's positioning also leads to better compaction rates in compact granular soils, the company says.
Deere placed the motor inside the compactors' frame to protect it. The compactors feature oil-splash lubrication for the hydraulic motor bearings, and sealed eccentric bearings, which the company says provides maintenance-free operation.
The compactors are compatible with these Deere backhoe models: 310L, 310L EP, 310SL, 310SL HL, 315SL and 410L. And these Deere compact excavators: 26G, 30G, 35G, 50G, 60G.
The company says they are also compatible with most competitors' models.
The compactors are available in the following widths: PC4, 13 inches; PC7, 18 inches; and PC10, 24 inches.
They are the most recent additions to Deere's Worksite Pro Attachments lineup.