At Intermat, Road paver manufacturer Vögele is showcasing its latest generation of sensors for grade and slope control. Whether on their own or in combination with the new Big MultiPlex Ski, they deliver optimal results in asphalt paving, the company says.
From narrow radii when constructing roundabouts to long straights on trunk roads, the requirements on sensors for grade and slope control can range widely, depending on the particular job.
Vögele is offering a comprehensive range of sensors encompassing various mechanical and sonic sensors and the Big MultiPlex Ski sensor system.
The new version of the Big MultiPlex Ski offers easy assembly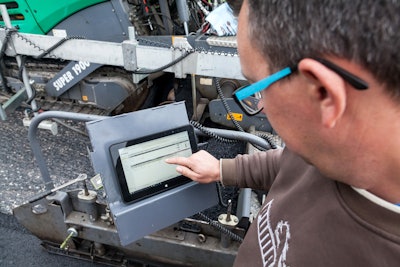 Vögele engineers have completely revamped the Big MultiPlex Ski by focusing on simplifying assembly, handling and transport, so now one person can attach it completely in just seven minutes.
That's thanks especially to the newly developed clamping fasteners, which allow completely tool-less attachment. There's a convenient transport box, too.
Improving quality and boosting efficiency with WITOS Paving
To document paving achievements, Vögele offers WITOS, a modular software system that supports fleet and service management.
This makes it possible to optimize processes such as milling, asphalt paving and compaction.
WITOS Paving is a solution that brings the different players together – from the construction manager through the asphalt mixing plant to the paving team. The system covers the planning and control of asphalt job sites, ensuring greater transparency across the entire paving process.
Super 800-3i offered in the mini class

Vögele also showed off its Super 800-3i for paving widths of up to 11 feet, six inches.
The compact class is represented by the wheeled paver Super 1303-3i, which Vögele said typically focused on municipal building sites. It can travel up to 12.4 miles an hour under its own power on public roads.
The Super 1800-3i tracked paver also performs well in highway construction, Vögele says.
RoadScan for contactless temperature measurement
RoadScan is a contactless temperature measurement and control system. Using a temperature sensor, it keeps track of the temperature of asphalt as it's coming out of the paver,
RoadScan is expected to be available on the U.S. market sometime this year,
The company also notes that its Offset PowerFeeder MT 3000-2i demonstrates that Vögele's expertise is not just limited to pavers.