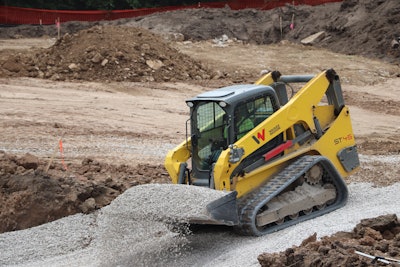 Editor's note: This article now reflects adjusted information provided by the manufacturer.
At the recent World of Concrete show, Wacker Neuson launched four Series II large-frame skid steers and compact track loaders — the radial- lift SW24, vertical-lift SW28, radial-lift ST35 and vertical-lift ST45 — which will soon be in dealers' inventories.
The models feature what Wacker Neuson calls "one of the only cabs that can be tilted for service access with the lift arms in the down position," giving easy access to all maintenance components. The company says the loaders have an efficient layout that requires less time on daily service checks.
Powered by a 74.3-horsepower Kohler engine, the units have a standard auxiliary hydraulic flow of 22.1 gallons per minute and an optional flow of 31.7 gallons per minute.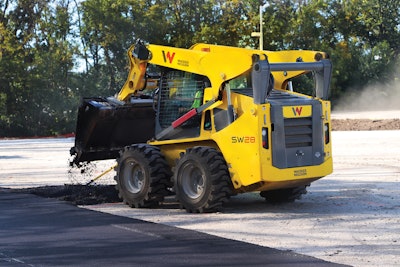 The cab features repositioned joysticks as well as ergonomically positioned switches designed to reduce operator fatigue. There is no lap bar. The wide door and step offers easy access and exit and operators can choose between mechanical hand-foot (SW models), electric-hydraulic (EH) hand-foot and selectable EH controls in either the ISO or H-pattern.
A 5.7-inch color display is standard on all models except for mechanical hand-foot control skid steer models, where it is an option. A rear-view camera can be added and set for back-up only or to be on at all times.
Wacker Neuson says the SW28 and ST45 vertical-lift models offer "class-leading hinge pin height" and at 40 gallons, the largest fuel tank in its class. CTL models also have an optional 50-gallon tank.
The company offers a 3-year standard, 4-year powertrain and 5-year electrical system warranty on all of its skid steers and compact track loaders.
---
Wacker Neuson Series II large-frame loader quick Specs