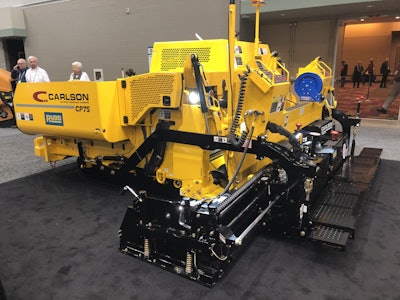 Carlson Paving debuted its CP75 four years ago, and for 2019, it has added features the company expects operators to love, especially those who hate cleaning under the hopper.
At this week's World of Asphalt show, where the new CP75 II made its first trade show unveiling, marketing and communications coordinator Travis Colwell highlighted the upgraded commercial paver's new high-flow material conveyor and frame design that does not require hydraulically lifting hoppers—eliminating the need for daily cleaning under the hopper.
"Instead, we have now gone to a system where every 500 hours operators only need to do an undercarriage inspection to make sure there's no buildup, and away they go again," Colwell said during the show at the Indiana Convention Center in Indianapolis.
"Eliminating daily cleanout is a huge feature for customers," he added. "After working eight to 10 hours a day, that is the one thing you don't want to do, and if you don't do that daily hopper cleanout, you will have problems."
Along with less cleanup, the system, which pairs belt technology with a heavy-duty chain and slat conveyor, leads to longer life and greater efficiency, Colwell says.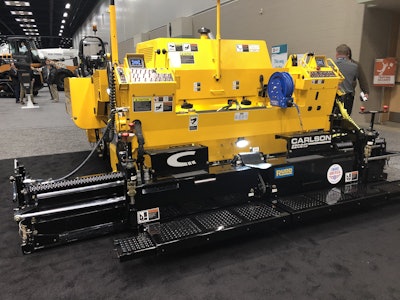 Also new, Carlson replaced all the operator controls with toggle switches. This gives a more intuitive feel and also increases operator visibility of the augers and conveyor. The switches are similar to those on the CP85, giving the company increasing uniformity in its products to make it easier for operators to switch machines.
The new CP75 retains its Deutz 74-horsepower Tier 4 Final engine, which does not require diesel exhaust fluid. The 17,000-pound paver also features the company's EZC815 electrically heated screed, which has a standard paving width of 8 to 15 feet.
Colwell adds that the CP75 II can handle a variety of options, including the company's LED blade light, which he says was the first such mobile lighting platform to use LED lights; others have since followed. He adds that it is still the only such light system that has AC and DC capability in a single platform; it can be plugged into the paver's battery or the screed's power outlet. He says the lights never get above 113 degrees, even after 36 hours of operation.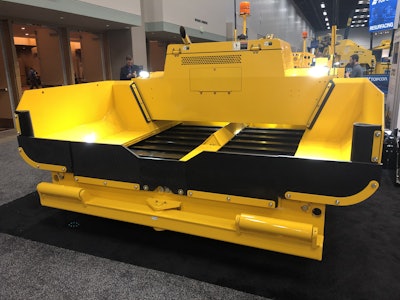 Other features on the CP75 II:
An undercarriage comprising six bogies and heavy-duty two-speed planetaries.
Hydraulically self-tensioning tracks.
Horizontal sliding damper doors that prevent damage from such things as utility boxes when the doors are open. They can be adjusted for use during wide paving and utility cut applications, or closed when transporting.
A one-piece forward tilting hood and the largest side doors in its class.
An access panel in the hopper to the engine and hydraulics.
A folding 4.5-inch full-color LED display, providing real-time engine performance and instrument gauges.
Standard cup holders, tool trays, locking toolboxes, depth rod holders and citrus washdown tank and 25-foot reel.